2022•06•20 Tokyo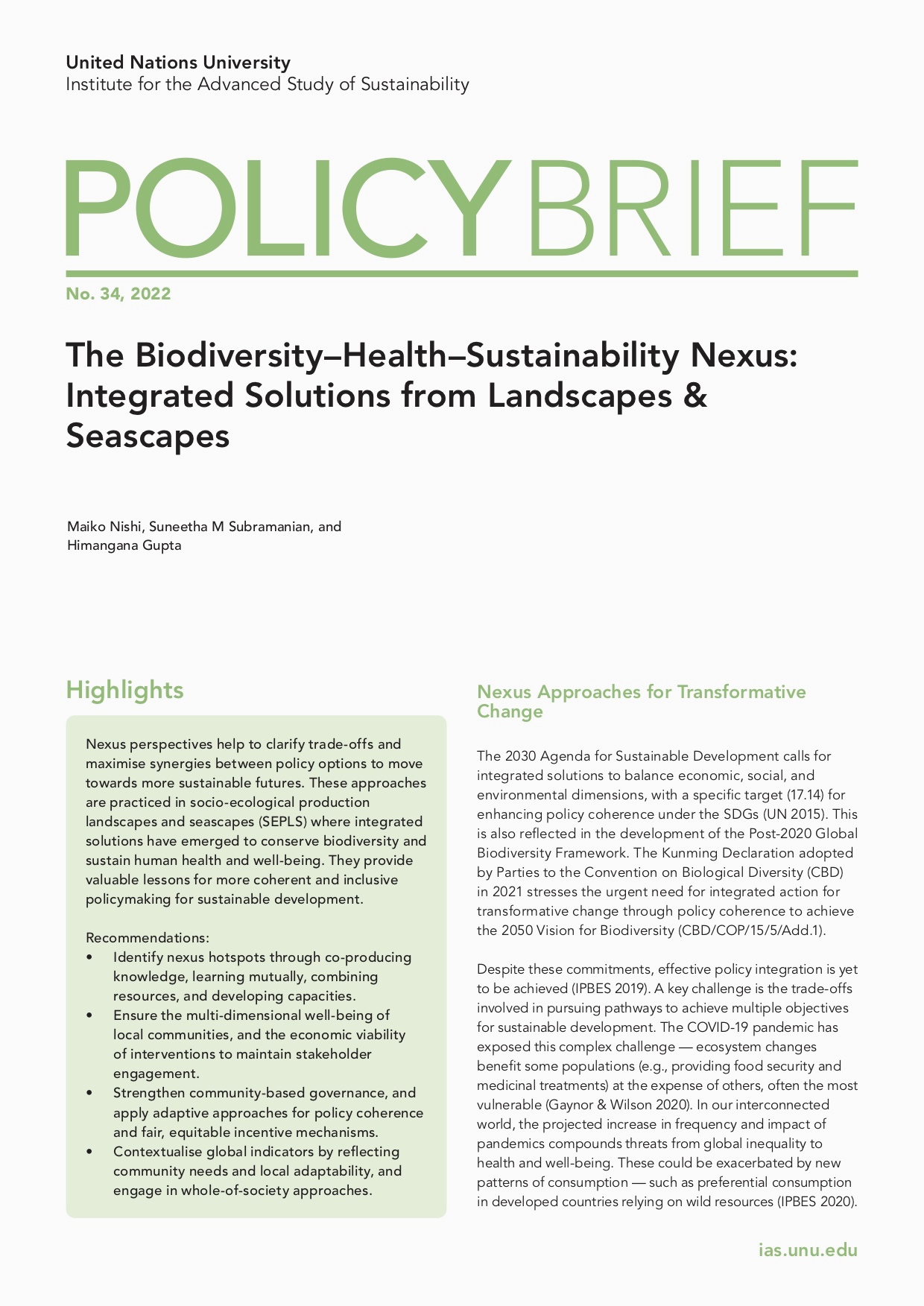 A new UNU-IAS Policy Brief offers recommendations on implementing nexus approaches for transformative change towards sustainability — ways of advancing integrated solutions across multiple sectors. Drawing from strategies used in socio-ecological production landscapes and seascapes (SEPLS), the brief elucidates interlinkages between biodiversity and human well-being to guide policymakers in applying solutions for policy coherence, such as One Health. Titled The Biodiversity–Health–Sustainability Nexus: Integrated Solutions from Landscapes & Seascapes, the brief was authored by Maiko Nishi, Suneetha M. Subramanian, and Himangana Gupta.
Highlights
Nexus perspectives help to clarify trade-offs and maximise synergies between policy options to move towards more sustainable futures. These approaches are practiced in socio-ecological production landscapes and seascapes (SEPLS) where integrated solutions have emerged to conserve biodiversity and sustain human health and well-being. They provide valuable lessons for more coherent and inclusive policymaking for sustainable development.
Recommendations:
Identify nexus hotspots through co-producing knowledge, learning mutually, combining resources, and developing capacities.
Ensure the multi-dimensional well-being of local communities, and the economic viability of interventions to maintain stakeholder engagement.
Strengthen community-based governance, and apply adaptive approaches for policy coherence and fair, equitable incentive mechanisms.
Contextualise global indicators by reflecting community needs and local adaptability, and engage in whole-of-society approaches.