2023•05•02 Tokyo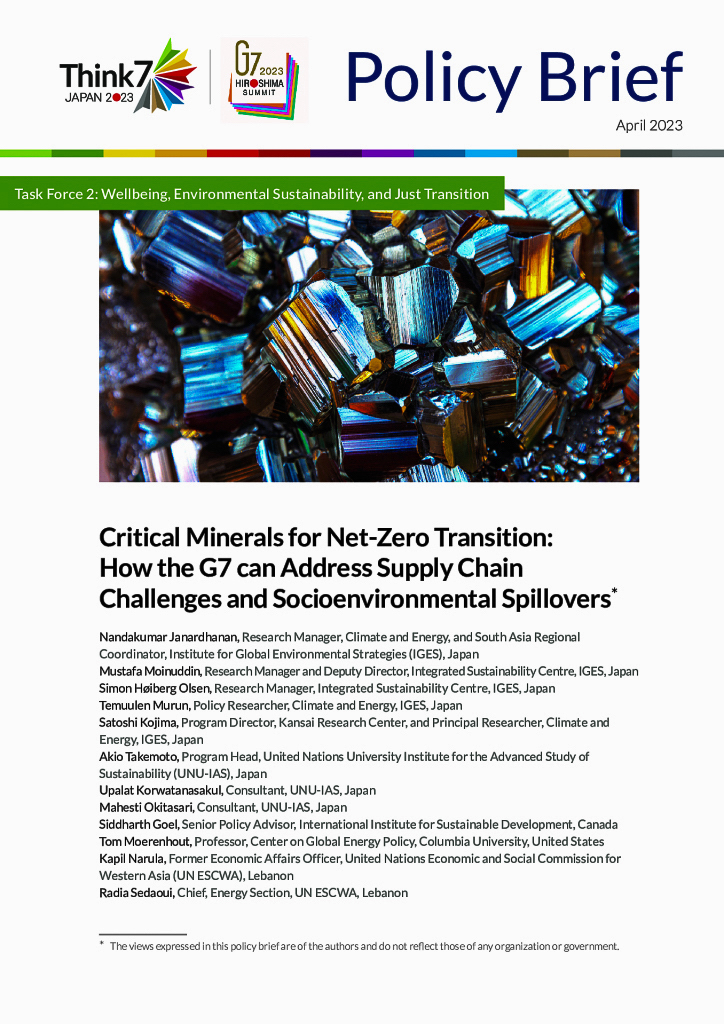 A new policy brief offers solutions to supply chain vulnerabilities and the negative environmental and socioeconomic impacts of the growing demand for critical minerals (CMs). The brief, Critical Minerals for Net-Zero Transition: How the G7 Can Address Supply Chain Challenges and Socioenvironmental Spillovers, provides recommendations to support policy discussions at the G7 Hiroshima Summit in May 2023 and beyond.
The publication is an output of the Think7 (T7) Japan task force on Wellbeing, Environmental Sustainability, and Just Transition, co-chaired by UNU-IAS. It is co-authored by UNU-IAS experts Akio Takemoto, Upalat Korwatanasakul, and Mahesti Okitasari.
Recommendations
The demand for CMs has increased considerably as they play a key role in clean energy technologies. To strengthen the Group of Seven's (G7) resilience to supply chain challenges and promote sustainable practices, the brief recommends:
boosting domestic production
promoting public–private partnerships
fostering cooperation for knowledge-sharing among members
building stronger trade agreements with source countries
partnering with the Group of Twenty (G20) to align strategies and policies
Background
Think7 (T7) is the official think tank engagement group of the Group of 7 (G7). Under the T7 process, global think tank experts develop research-based policy recommendations for consideration by G7 countries and partners, in coordination with the G7 presidency.