2017•03•24 Tokyo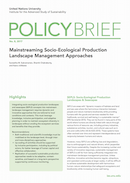 A new UNU-IAS Policy Brief provides guidance for policymakers seeking solutions to safeguard landscapes that are tied to human livelihoods. The brief, Mainstreaming Socio-Ecological Production Landscape Management Approaches, is written by UNU-IAS researchers Suneetha M. Subramanian, Shamik Chakraborty, and Kaoru Ichikawa. It investigates how sustainable landscape-management techniques can be better integrated into common practice, and provides a series of recommendations for related policy and decision-making processes.
Highlights
Integrating socio-ecological production landscapes and seascapes (SEPLS) concepts into mainstream landscape management requires dynamic and innovative approaches that are tailored to local conditions and contexts. This must leverage knowledge, inclusive participation, and adaptive planning in order to maintain ecosystem diversity in landscapes without eroding the ecosystem services and benefits that they provide.
This policy brief recommends that:
Both traditional and scientific knowledge must be mobilized at the landscape level, through inter- and trans-disciplinary approaches.
Up-scaling of activities should be supported by inclusive participation, including by political actors, for better leverage of human capital and effective collaboration.
Replication of successful sustainable production approaches needs to be adaptive, context- sensitive, and based on a long-term perspective supported by continuous monitoring.
* * * *
This policy brief is an output of the UNU-IAS International Satoyama Initiative, a global effort to realize societies in harmony with nature, through promoting the maintenance and rebuilding of SEPLS for the benefit of biodiversity and human well-being.