2023•06•21 Tokyo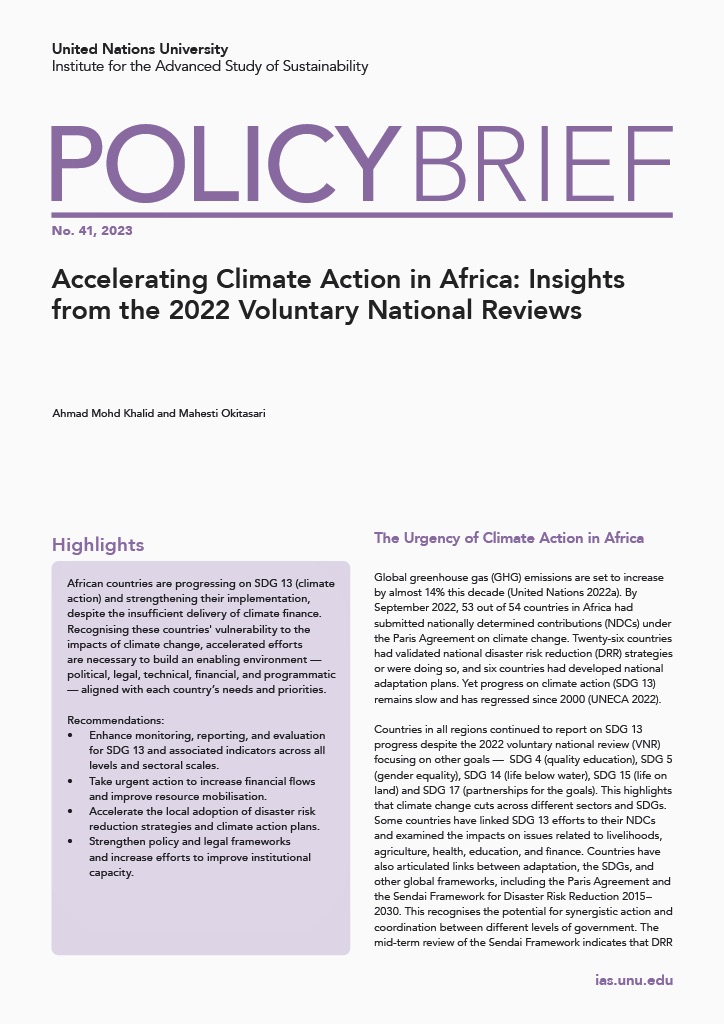 A new UNU-IAS policy brief offers recommendations on strengthening climate strategies in Africa. Drawing on analysis of 2022 Voluntary National Reviews submitted by 21 African countries, it examines statistical, financial, and capacity barriers to implementing climate programmes at the national and local levels. The brief, Accelerating Climate Action in Africa: Insights from the 2022 Voluntary National Reviews, provides recommendations on addressing those barriers to better synergise SDG 13 (climate action) efforts and improve coordination between different levels of government. It is authored by Ahmad Khalid and Mahesti Okitasari.
Highlights
African countries are progressing on SDG 13 and strengthening their implementation, despite the insufficient delivery of climate finance. Recognising these countries' vulnerability to the impacts of climate change, accelerated efforts are necessary to build an enabling environment — political, legal, technical, financial, and programmatic — aligned with each country's needs and priorities.
Recommendations:
Enhance monitoring, reporting, and evaluation for SDG 13 and associated indicators across all levels and sectoral scales.
Take urgent action to increase financial flows and improve resource mobilisation.
Accelerate the local adoption of disaster risk reduction strategies and climate action plans.
Strengthen policy and legal frameworks and increase efforts to improve institutional capacity.
* * *
Read more UNU-IAS Policy Briefs for the latest analysis and recommendations on solving sustainability challenges.