2018•04•18 Tokyo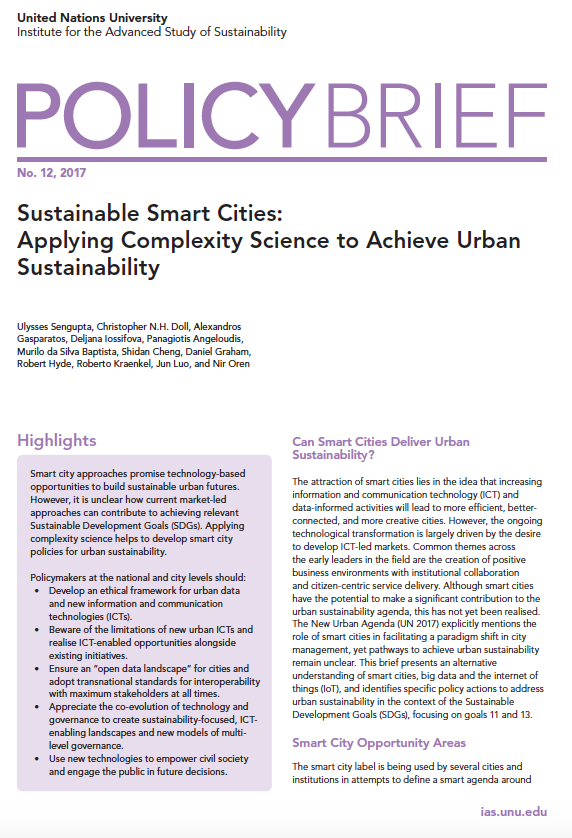 The recent UNU-IAS Policy Brief Sustainable Smart Cities: Applying Complexity Science to Achieve Urban Sustainability is now available in Mandarin and Portuguese. These translated versions can be downloaded below.
The policy brief argues that governance guided by science, rather than led by market forces, is the way forward in building sustainable urban futures. It was co-authored by former UNU-IAS researcher Christopher Doll, and is a joint output of UNU-IAS and the ESRC Strategic Network Data and Cities as Complex Adaptive Systems (DACAS). The brief describes the evolving technology of smart cities as providing opportunity for re-imagining civic engagement and strengthening societal networks.
Mandarin:
可持续智慧城市: 针对城市可持续性的复杂性科学方法
智慧城市以技术为本,为勾画可持续的城市未来图景带来了可能。然而,现今以市场为导向的技术创新方法在多大程度上能推动实现可持续发展目标第11条(SDG11)及其他与气候变化相关的可持续发展目标 还未可知。复杂性科学则提供了理解这种创新并制定旨在实现城市可持续性的智慧城市政策的全新视角。
Portuguese:
Cidades Inteligentes Sustentáveis: Aplicando a Ciência da Complexidade para Alcançar a Sustentabilidade Urbana
As abordagens de Cidades Inteligentes prometem oportunidades tecnológicas para o desenvolvimento de futuros sustentáveis para o espaço urbano. Porém, não são claras as formas como as abordagens atuais voltadas para inovações de mercado podem contribuir para alcançar os principais Objetivos de Desenvolvimento Sustentável (ODS). A aplicação da ciência da complexidade, auxilia o desenvolvimento de políticas de Cidades Inteligentes para a sustentabilidade urbana.