2019•07•09 Tokyo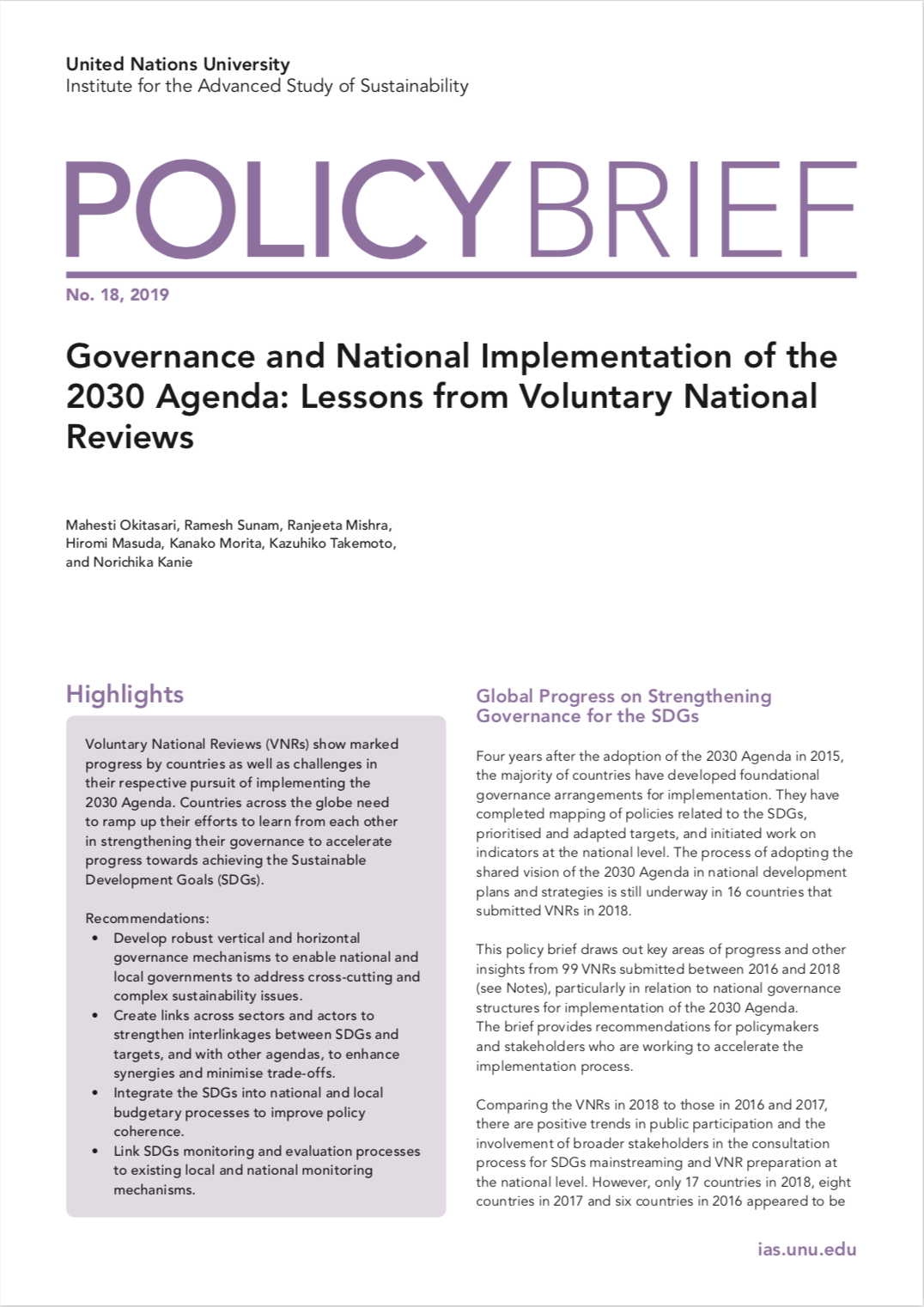 A new UNU-IAS Policy Brief presents recommendations on governance and national implementation to accelerate progress towards achieving the SDGs, based on analysis of 99 recent Voluntary National Reviews (VNRs). The brief, Governance and National Implementation of the 2030 Agenda: Lessons from Voluntary National Reviews, draws out key areas of progress and other insights from VNRs submitted between 2016 and 2018 to present recommendations for policymakers and stakeholders who are working to accelerate implementation of the 2030 Agenda. Authored by Mahesti Okitasari, Ramesh Sunam, Ranjeeta Mishra, Hiromi Masuda, Kanako Morita, Kazuhiko Takemoto, and Norichika Kanie, the brief is part of the UNU-IAS project Governance for Sustainable Development.
Highlights
Voluntary National Reviews (VNRs) show marked progress by countries as well as challenges in their respective pursuit of implementing the 2030 Agenda. Countries across the globe need to ramp up their efforts to learn from each other in strengthening their governance to accelerate progress towards achieving the Sustainable Development Goals (SDGs).
Recommendations:
Develop robust vertical and horizontal governance mechanisms to enable national and local governments to address cross-cutting and complex sustainability issues.
Create links across sectors and actors to strengthen interlinkages between SDGs and targets, and with other agendas, to enhance synergies and minimise trade-offs.
Integrate the SDGs into national and local budgetary processes to improve policy coherence.
Link SDGs monitoring and evaluation processes to existing local and national monitoring mechanisms.