2021•04•29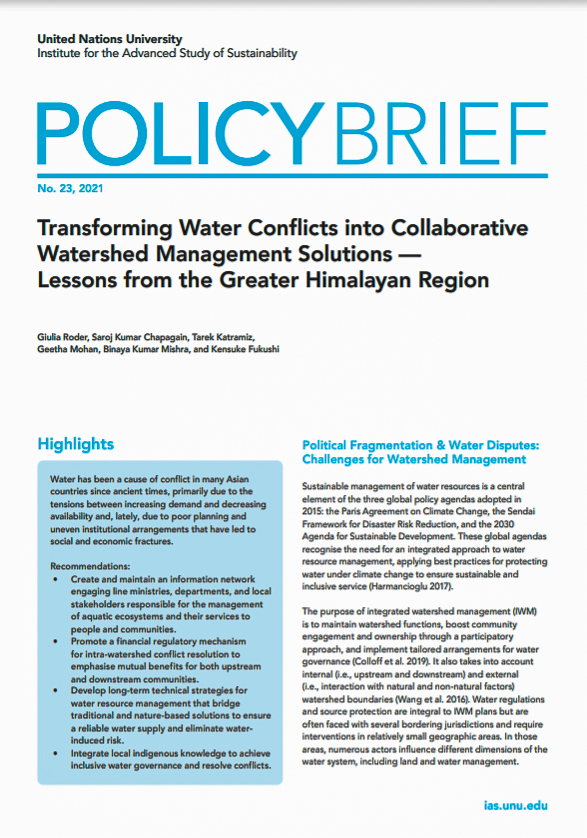 A new UNU-IAS Policy Brief provides recommendations on transforming water conflicts into collaborative watershed management solutions. The brief, Transforming Water Conflicts into Collaborative Watershed Management Solutions — Lessons from the Greater Himalayan Region, offers recommendations for policymakers and other stakeholders concerned with addressing such conflicts through a multi-stakeholder approach in which the role of local experts is prioritised. It is authored by Giulia Roder, Saroj Kumar Chapagain, Tarek Katramiz, Geetha Mohan, Binaya Kumar Mishra, and Kensuke Fukushi.
Highlights
Water has been a cause of conflict in many Asian countries since ancient times, primarily due to the tensions between increasing demand and decreasing availability and, lately, due to poor planning and uneven institutional arrangements that have led to social and economic fractures.
Recommendations:
Create and maintain an information network engaging line ministries, departments, and local stakeholders responsible for the management of aquatic ecosystems and their services to people and communities.
Promote a financial regulatory mechanism for intra-watershed conflict resolution to emphasise mutual benefits for both upstream and downstream communities.
Develop long-term technical strategies for water resource management that bridge traditional and nature-based solutions to ensure a reliable water supply and eliminate water-induced risk.
Integrate local indigenous knowledge to achieve inclusive water governance and resolve conflicts.