2022•11•28 Tokyo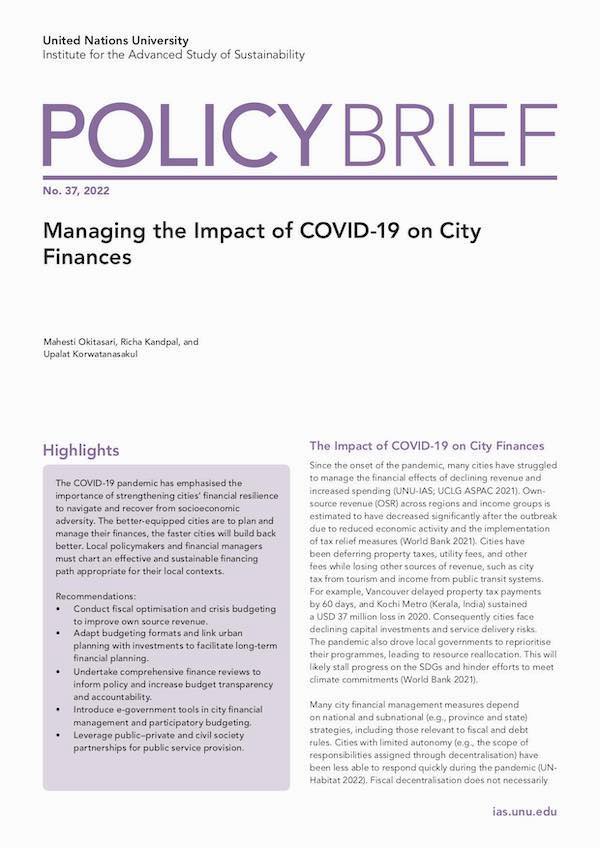 A new UNU-IAS policy brief provides recommendations for managing the impacts of the COVID-19 crisis on city finances, detailing how municipalities can improve fiscal policy and financial management systems to accelerate recovery and build resilience. The brief, Managing the Impact of COVID-19 on City Finances, identifies strategies such as fiscal optimisation, participatory budgeting, and public-private partnerships to avoid financial collapse and deliver sustainable development actions.
The brief is authored by Mahesti Okitasari, Richa Kandpal, and Upalat Korwatanasakul.
Highlights
The COVID-19 pandemic has emphasised the importance of strengthening cities' financial resilience to navigate and recover from socioeconomic adversity. The better-equipped cities are to plan and manage their finances, the faster cities will build back better. Local policymakers and financial managers must chart an effective and sustainable financing path appropriate for their local contexts.
Recommendations:
Conduct fiscal optimisation and crisis budgeting to improve own source revenue.
Adapt budgeting formats and link urban planning with investments to facilitate long-term financial planning.
Undertake comprehensive finance reviews to inform policy and increase budget transparency and accountability.
Introduce e-government tools in city financial management and participatory budgeting.
Leverage public–private and civil society partnerships for public service provision.
* * *
Read more UNU-IAS Policy Briefs for the latest analysis and recommendations on solving sustainability challenges.