2022•06•03 Tokyo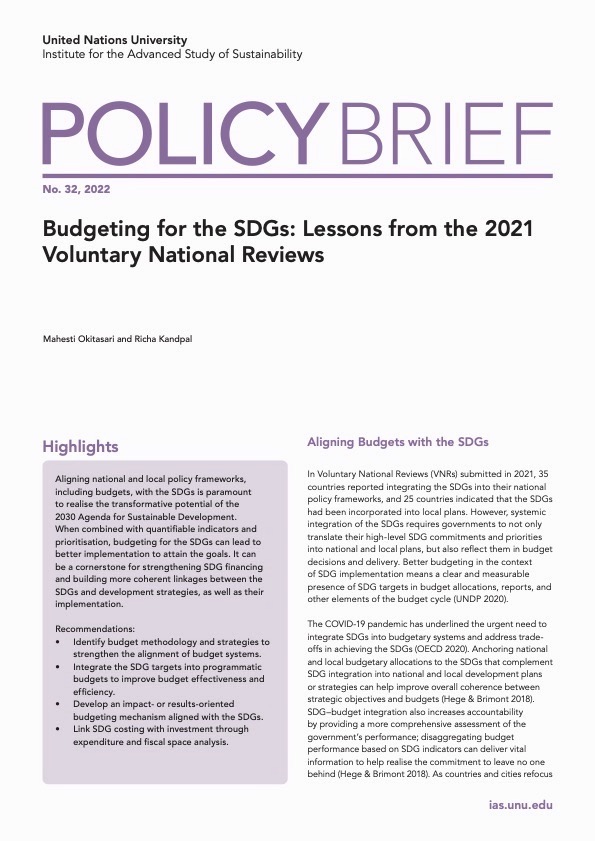 A new UNU-IAS Policy Brief offers guidance for policymakers and financial administrators on strengthening the integration of the SDGs into national and local budgets. The brief, Budgeting for the SDGs: Lessons from the 2021 Voluntary National Reviews, is based on analysis of 2021 Voluntary National Reviews (VNRs) presented by 35 countries, drawing lessons on strategies such as budget tagging, integration in budget monitoring systems, and SDG costing. It recommends effective approaches and tools that can be used by policymakers at the national and local levels to support systemic integration of the SDGs in budget frameworks. The brief is authored by Mahesti Okitasari and Richa Kandpal.
Highlights
Aligning national and local policy frameworks, including budgets, with the SDGs is paramount to realise the transformative potential of the 2030 Agenda for Sustainable Development. When combined with quantifiable indicators and prioritisation, budgeting for the SDGs can lead to better implementation to attain the goals. It can be a cornerstone for strengthening SDG financing and building more coherent linkages between the SDGs and development strategies, as well as their implementation.
Recommendations:
Identify budget methodology and strategies to strengthen the alignment of budget systems.
Integrate the SDG targets into programmatic budgets to improve budget effectiveness and efficiency.
Develop an impact- or results-oriented budgeting mechanism aligned with the SDGs.
Link SDG costing with investment through expenditure and fiscal space analysis.
* * *
Read more UNU-IAS Policy Briefs for the latest analysis and recommendations on solving sustainability challenges.