2017•12•04 Tokyo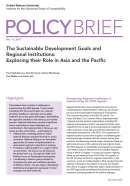 A new UNU-IAS Policy Brief presents recommendations for the involvement of regional bodies, such as UNESCAP and ASEAN, as key actors in coordinating the implementation, follow-up, and review process of the Sustainable Development Goals (SDGs) in Asia. The Sustainable Development Goals and Regional Institutions: Exploring their Role in Asia and the Pacific was written by UNU-IAS researchers Farai Kapfudzaruwa and Norichika Kanie, together with Katinka Weinberger, Hein Mallee, and Atsushi Ishii. The brief examines how such institutions can leverage their power and platforms for greater cooperation and collaboration among Member States.
Highlights
Policymakers face a variety of challenges in implementing the 2030 Agenda. These include translating the SDGs and targets into national priorities, building on synergies and avoiding tradeoffs across the goals and targets, and building the capacities needed for the follow-up and review process. Regional institutions can play a significant role in responding to these challenges and contributing to the implementation, follow-up, and review process of the SDGs — particularly by:
Utilizing their convening power to foster regional dialogue and peer learning for policy innovation. Regional dialogue can strengthen approaches for means of implementation in areas where regional cooperation is growing.
Providing a regional platform to support follow-up and review. The lessons can be shared at the global level, e.g., through the High-Level Political Forum on Sustainable Development.
Coordinating a science–policy interface to strengthen the data and statistical capacities of Member States. This also helps in identifying institutional arrangements necessary to foster synergies and limit trade-offs.