2016•05•11 Tokyo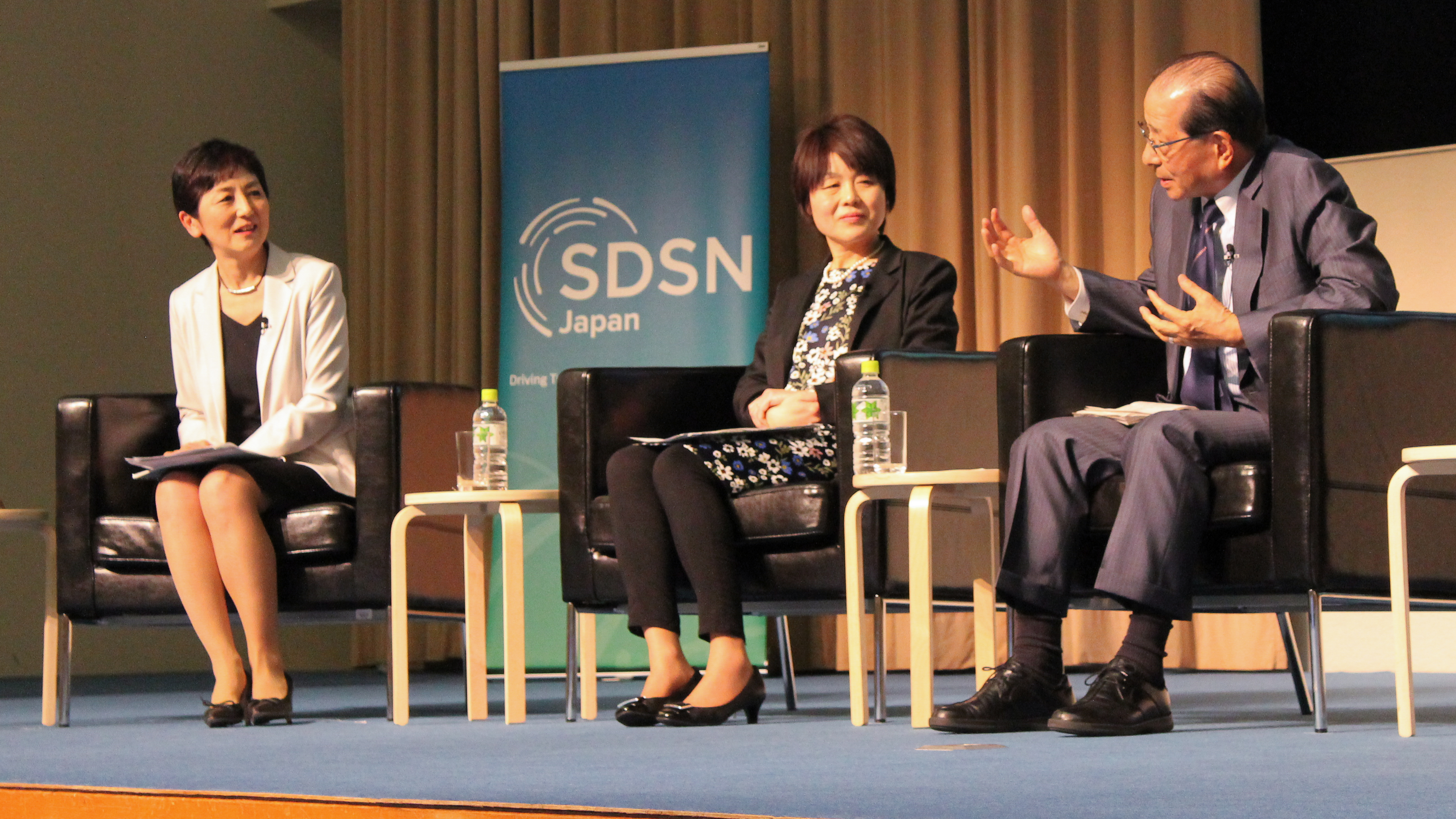 On 16 April 2016, the Sustainable Development Solutions Network (SDSN) Japan organized a special symposium on "Mainstreaming Sustainable Development: Toward 2016 Summit and beyond" at the UNU headquarters in Tokyo. The symposium consisted of an opening session, keynote speech by Kazuhiko Takeuchi (Professor, The University of Tokyo / Director, Integrated Research System for Sustainability Science), dialogue session by SDSN Japan Council members, and a panel discussion.
The opening remarks delivered by Hironori Hamanaka (SDSN Japan Council Chair / Chair of the Board of Directors, Institute of Global Environmental Strategies) emphasized that 2016 is a key year as the implementation of the 2030 Agenda for Sustainable Development and the Paris Climate Agreement start. In relation to this, Mr Hamanaka pointed out that the 2016 G7 Summit will be a prime opportunity for world leaders to show their commitment and noted that SDSN Japan has developed specific policy recommendations for G7 leaders on SDG implementation. The recommendations were officially handed over to Makoto Oniki (Parliamentary Vice-Minister of the Environment, Japan) prior to the symposium. During his address, Mr Oniki pledged the commitment of the Ministry of the Environment to support the implementation process by organizing stakeholder meetings aimed at sharing good practices and promoting joint efforts between the public and private sectors.
In his keynote speech, Prof Takeuchi outlined SDSN Japan policy recommendations for mainstreaming the SDGs, focusing on the concrete roles that different stakeholders need to play in the areas of climate change, sustainable consumption and production (SCP), biodiversity, international development and education. The topics were further elaborated during a dialogue session with the SDSN Japan Council members and during a panel discussion moderated by Hiroko Kuniya (former hostof NHK programme "Close-up Gendai"), who prompted the panelists on practical actions required for successful SDG implementation.
Among the points raised was an emphasis on the co-benefits approach, whereby legislation created in areas unrelated to climate change impels decision-makers to opt for policies with positive effects on climate change mitigation. The panelists also highlighted the need for policymakers to communicate their intentions behind policies for sustainability to the general public. Research too, needs to engage in this dialogue. In promoting corporate behavioural change, the panelists mentioned the need for new methodologies that would help businesses incorporate new logic into corporate management plans and to persuade investors to address the challenges of sustainability. The times when the sole responsibility of the private sector towards society was profit-generation are over. Businesses need to rethink how to contribute to society in line with the SDGs. The discussion concluded with a call to all stakeholders to embrace the SDGs as a concrete action plan rather than an abstract ideal.