2022•04•07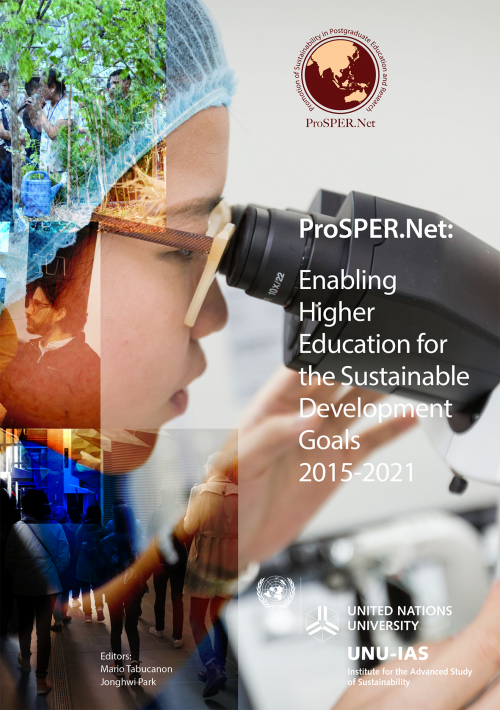 A new report highlights education for sustainable development (ESD) initiatives undertaken by higher education institutions in the Asia-Pacific region as part of the Promotion of Sustainability in Postgraduate Education and Research Network (ProSPER.Net). The publication, ProSPER.Net: Enabling Higher Education for the Sustainable Development Goals 2015-2021, outlines projects, programmes, and events focusing on curriculum development, capacity building, and policy advice.
The report provides an overview of 12 joint projects integrating sustainability into curricula, summarising the contexts, processes, outcomes, impacts, recommendations, and lessons learned from wide-ranging experiences of the network. It outlines programmes designed for young professionals and postgraduate students to equip them with skills and knowledge on leadership for sustainability and research, including ProSPER.Net Young Researchers' Schools and ProSPER.Net Leadership Programmes. It also offers policy advice on engaging with and supporting policymakers through initiatives in education and research such as ProSPER.Net Forum on Sustainability in Higher Education events where members deliberated policy issues and implications of joint projects and other initiatives on policymaking in HEIs.
ProSPER.Net is an alliance of 52 higher education institutions in the Asia-Pacific region working to integrate sustainable development into curriculums and research, for which UNU-IAS serves as the secretariat. The work of the network has supported the implementation of the 2030 Agenda and the SDGs through the Global Action Programme (GAP) on Education for Sustainable Development (2015-2019), and the ESD for 2030 framework (2020-2030).