2022•08•26 Tokyo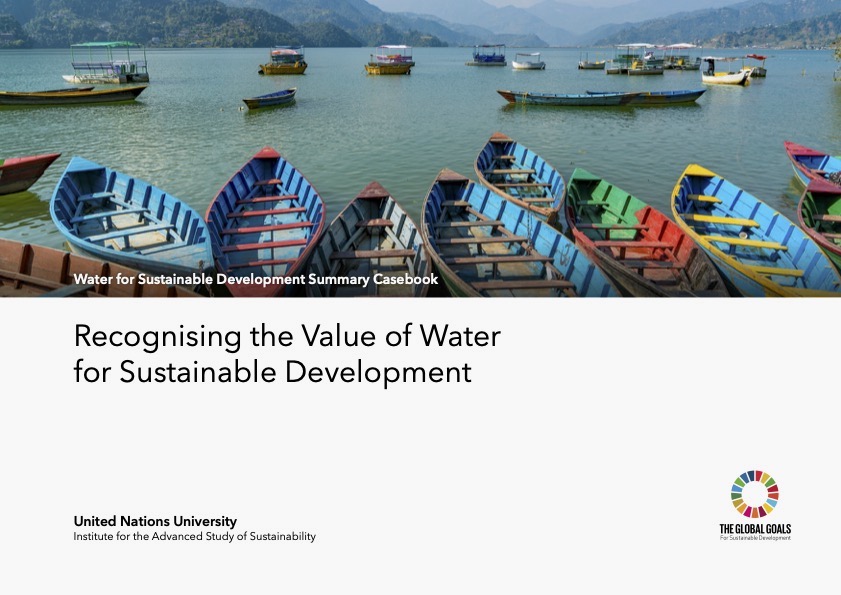 A new UNU-IAS publication investigates the impact of water use and water quality on the economy and society in the Asian region, offering policy guidance for controlling water pollution. Water for Sustainable Development Summary Casebook: Recognising the Value of Water for Sustainable Development is based on research conducted in India, Indonesia, Nepal, and Thailand, and uses an Input–Output (IO) analysis to provide a comprehensive picture of intersectoral dependence between economy, water consumption, and pollution loads.
Aimed at policymakers, water practitioners, and researchers, the publication summarises the outcomes of the Water for Sustainable Development research project implemented by UNU-IAS to improve environmental and economic policies in the Asian region. The casebook is authored by Saroj Kumar Chapagain, Geetha Mohan, and Kensuke Fukushi.
Co-author Saroj Kumar Chapagain (Associate Programme Officer, UNU-FLORES) said "the casebook is a valuable tool for managing limited water resources in growing economies with high water demand. Aside from traditional measures, the publication offers new approaches to water allocation and pollution control strategies in Asian contexts."
Conclusions & Policy Implications
The key conclusions and policy implications of the report include the following:
The agricultural sector consumes the largest amount of water of all economic actors. Solutions to improve water use efficiency include developing water-saving agriculture, controlling erosion and landslide management systems, preventing floods, reducing leakages in the drainage system, and adopting water-saving technologies.
For tourism and other manufacturing sectors, quota water supply, paid water supply, and double charging can be implemented for industries that overuse groundwater sources. Alternatively, development of small-scale water storage reservoirs will reduce dependence on water sources like rivers and groundwater.
Water stakeholders should meet and review the water demand and supply regularly. Innovative ideas and adopting water-use saving technologies should be shared and promoted.
National, regional and local level water budgeting tables and environmentally-extended-input-output (EEIO) model analysis are effective tools for policymakers to understand the distribution of water resources for economic activities and prevent social conflicts among water users.
The practice of handling and treating livestock waste is not common. A policy of turning animal waste into a valuable product, such as biogas, would be the most effective way to recover resources and control water pollution.
Manufacturing has been a major contributor of water pollution; cleaner production and wastewater treatment practices should be implemented for direct pollution control. Similarly, service sector waste (hotels and restaurants) can be better handled by expanding the capacity of wastewater treatment plants and complying with discharge standards.
UNU-IAS research provides policy directives for controlling water pollution by analysing how sectoral outputs in the economy contribute to water pollution. Managing the demand of high polluting sectors is an effective way to curb water pollution.
In addition to traditional approaches, policy should also seek and prioritise water pollution control on the supply-side (indirect pollution). This report provides strong evidence for levying environmental tax from service sectors and offsetting the high investment cost for the livestock sector.
The casebook is available to download from UNU Collections.