2015•02•27 Tokyo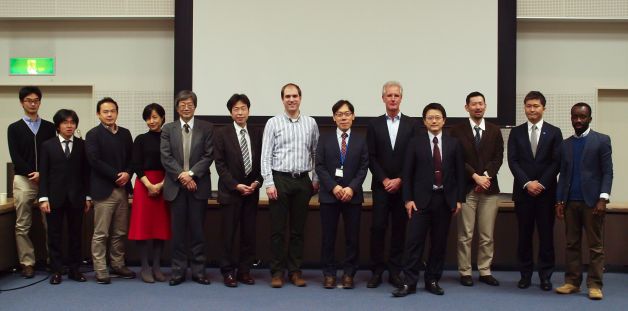 On 20 February 2015 UNU-IAS co-organized the International Symposium on Rural Food System, Sharing Network, and Ecosystem Services in Socio-ecological Production Landscapes in Tokyo.
This symposium examined research findings on rural food systems, sharing networks, and sustainable use of ecosystem services in satoyama-satoumi landscapes in both developing and developed countries. "Satoyama-satoumi" is a Japanese term for socio-ecological production landscapes and seascapes (SEPLS) characterized by a dynamic mosaic of different types of ecosystems that maintain relatively rich biodiversity and produce bundles of ecosystem services. The symposium also identified challenges and opportunities associated with co-management of SEPLS.
Mr. Naohisa Okuda (Ministry of the Environment, Japan) provided opening remarks, drawing from past research conducted in the field of SEPLs. Prof. Steven Van Passel (Assistant Professor, Hasselt University) and Prof. Dirk Roep (Assistant Professor, Wageningen University) presented on the impact of the European Common Agriculture Policy on rural agriculture, and emphasized the importance of a value-oriented approach to assess rural food systems and multifunctional agriculture driving place-based development. Dr. Osamu Saito (Academic Programme Officer, UNU-IAS), Prof. Shizuka Hashimoto (Associate Professor, Kyoto University) and Prof. Ryo Kohsaka (Associate Professor, Kanazawa University) presented outcomes of their collaborative research on the Noto Peninsula in Ishikawa prefecture, Japan.
Dr. Saito indicated the importance of non-market food provisioning services through self-production and social networks for rural food systems, not only in Japan but also in northern Ghana, India, Sri Lanka and Viet Nam. Prof. Hashimoto and Prof. Kohsaka presented on agri-environmental schemes for sustainable provisioning of ecosystem services, and on local governance and citizen participation. In the panel discussion, Prof. Shozo Shibata (Kyoto University) and Prof. Kentaro Yoshida (Nagasaki University) commented on successful shared ecosystem services, multifunctional agriculture and sustainable place-based development. At the end of the session, participants discussed potential research topics and pathways for future research collaboration.
The outcomes of the symposium are expected to contribute to international decision-making processes, namely the Intergovernmental science-policy Platform on Biodiversity and Ecosystem Services (IPBES), and also be summarized as an academic paper.
The symposium was co-organized with the Committee on Environmental Systems (Japan Society of Civil Engineers), with the cooperation of the Ministry of the Environment, Japan.
****
This symposium was held as part of the research project, Tradeoff Analysis and Local Governance Model of Satoyama Ecosystem Services (ES-Tradeoff, FY2013-FY2015, 1-1303), which is supported by the Ministry of the Environment, Japan through its Environment Research and Technology Development Fund.<