2021•02•24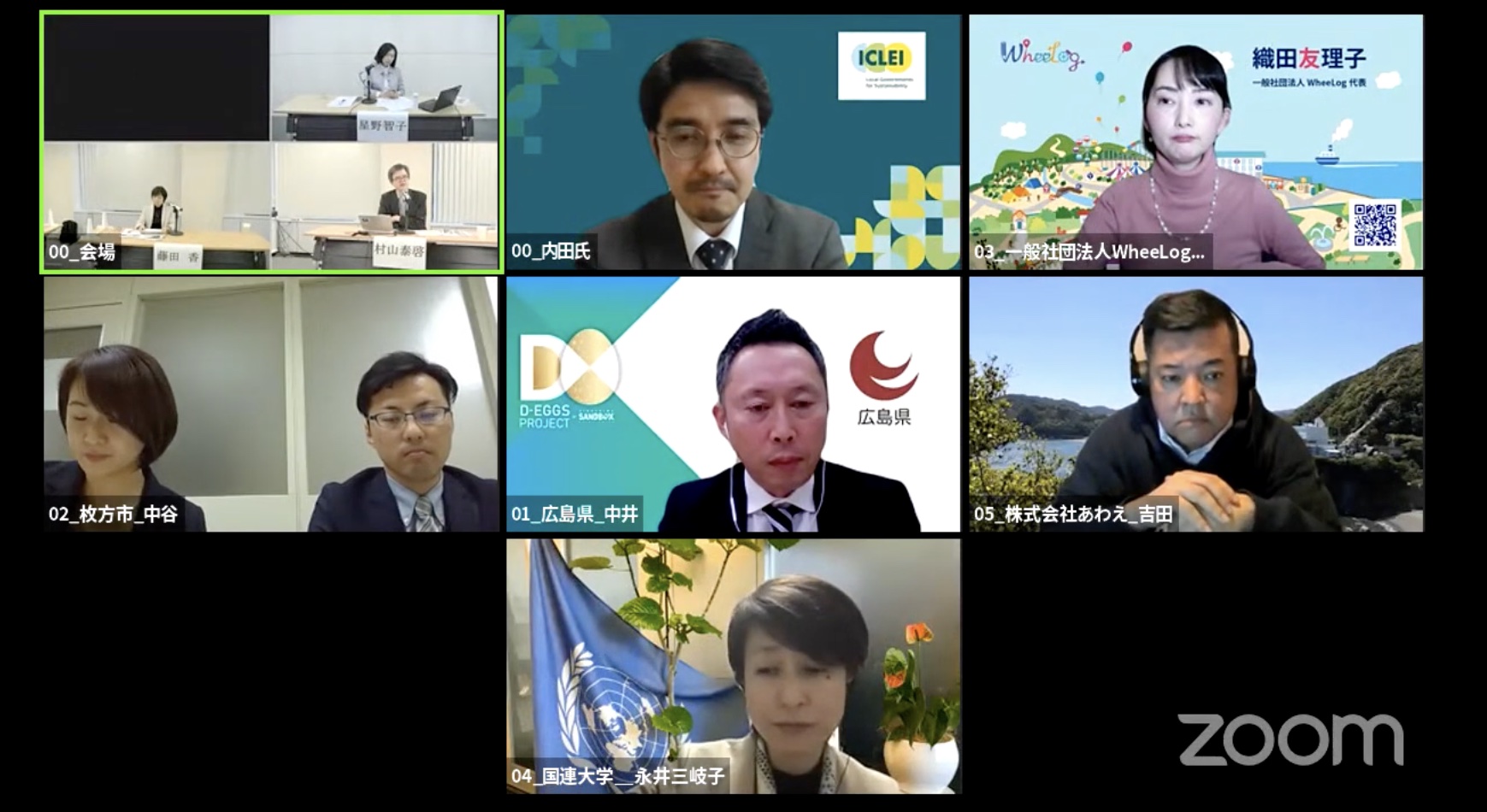 On 16 February 2021, UNU-IAS co-organised an online symposium around the theme of "Shaping Local Sustainability in the Post-COVID-19 Era." The symposium discussed ways to accelerate local SDGs through Digital Transformation (DX) by sharing experts' views and practical cases from local communities, including UNU-IAS OUIK's collaborative SDGs localisation initiative.
In the opening remarks, Tokurtaro Nakai (Vice Minister of Environment of Japan) highlighted policy directions of Ministry of the Environment of Japan (MOEJ) to achieve the Three Transitions (the transition to a decarbonized society, the transition to a circular economy, and the transition to a decentralized society) to redesign socio-economic systems to be more sustainable and resilient in a post-COVID-19 society.
In the first part of the symposium, three panelists discussed the possibilities of DX in shaping sustainability locally. Yasuhiro Murayama (National Institute of Information and Communications Technology (NICT)) stressed the importance of implementing coherent and comprehensive policy approaches to lead the digital transformation in the society. Togo Uchida (Local Governments for Sustainability (ICLEI)) addressed challenges that while some cities in Europe and the US are accelerating the digital transformation, there are increasing concerns for the data security and digital divide. Kaori Fujita (Nikkei ESG) addressed the possibilities of improving sustainability while solving local problems by applying technologies to visualise local natural resources.
The second part of the symposium introduced five practical cases of the SDGs localization through technologies and/or partnerships. These cases include Hiroshima Sandbox (Hiroshima Pref.), Hirathon Project (Hirakata City), IMAGINE KANAZAWA 2030 (UNU-IAS OUIK), WheeLog! (WheeLog! Association), Technology for Local Community (Awae Inc.). In the presentation, Mikiko Nagai (Manager, UNU-IAS OUIK) highlighted the importance of sharing the local vision to stakeholders achieve the SDGs by introducing participatory approaches to set "The Kanazawa Future Scenario" led by the joint effort among Kanazawa City, the Junior Chamber International Kanazawa, and the UNU-IAS OUIK.
In the concluding remarks, Kazuhiko Takeuchi (Senior Visiting Professor, UNU-IAS) summarised the symposium's outcome, which showcased examples of the new form of partnerships through digital technologies and stressed the importance of accelerating DX locally to achieve sustainability in the Post-COVID-19 Era.