2019•02•18 Tokyo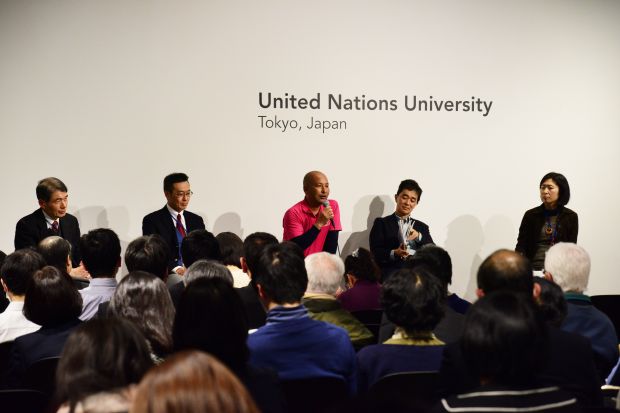 On 25 January, UNU-IAS and GEOC jointly organized a seminar to discuss solutions to the problem of plastic waste. The event aimed to raise awareness, share scientific insights, and discuss concrete action to be taken through multi-stakeholder partnerships.
In his keynote presentation, Tetsuji Ida of Kyodo News gave a comprehensive overview of the problem of plastic waste. He highlighted the inter-relationship between poverty and the environment in the developing countries and pointed out that both issues have been getting worse. He also raised concerns that, although the issues of plastic waste have been a problem since the 1990s, mass-production and mass-consumption lifestyles have not been changed. He also pointed out the issue that in Japan a massive amount of plastic waste is burned in a method called "thermal recycling." To achieve the SDGs and Paris Agreement, he emphasised a need to transform our lifestyles as well as policies. To do so, he urged the adoption of a combined approach using economic incentives and regulation.
The next speaker, Jun Harukawa of the Miyakojima Sea Environmental Network, addressed the current state of Miyako Island beaches and its cleanup initiatives. He reported that the volume of the waste on the beaches are exceeding the capacity of the incinerator on the island. He also raised concerns that dangerous wastes, including syringes and high-pressure gas containers, are being left on the beaches as they cannot be disposed by volunteers.
Yasushi Nakazato from the Ministry of the Environment of Japan (MOEJ), then introduced the ministry's research projects to gather scientific evidence on the impacts of plastic pollution on ecosystems as well as to make future projections. He also encouraged participants to join the Plastic Smart Campaign, a platform led by the ministry to facilitate voluntary actions by a wide range of stakeholders.
Finally, Yoshiharu Hayamizu, UNU-IAS/MOEJ, shared information from the latest global discussions of the UNEP Expert Group meeting. He emphasised that the meeting reached consensus on a need for a global collaborative effort to combat plastic pollution as well as strengthened scientific knowledge of the issue. He also reported that the meeting discussed the global framework to combat plastic pollution.
In a panel discussion, the speakers and participants actively discussed concrete measures to prevent plastic pollution.  Viewpoints exchanged among the speakers and the participants included a need for a mechanism to engage people who are currently unaware or uninterested in the issue, a need for economic incentives to engage the private sector, the importance of starting innovative initiatives at the local level, sharing information on the present state of plastic pollution, and managing waste on land.