2017•05•17 Tokyo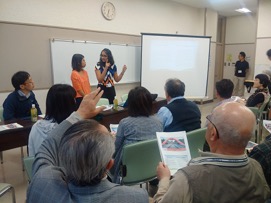 As a part of a field project and coinciding with 2017 as the International Year of Sustainable Tourism for Development, students from the UNU-IAS postgraduate programme delivered a presentation on the potential of expanding ecotourism in Hanno City, Saitama Prefecture.
The city, located in the southwestern part of the prefecture, is interested in promoting their popular eco-tours to the growing number of foreign visitors to Japan. Responding to their request, the students performed research to identify promotional strategies for and determine the likely challenges in attracting foreign visitors. Currently, the city has about 40 registered eco-tour operators providing more than 100 trips a year, primarily for a Japanese audience.
Students conducted face-to-face interviews with the tour providers and members of the Hanno Ecotourism Promoting Committee (HEPC), and they also participated in two different eco-tour activities in Hanno. The students then surveyed international students, aged between 20 to 35 years old, from three universities on their interest in visiting tourist attractions and other popular sites in Japan, preferences relating to ecotourism activities offered in Hanno, and possible recommendations to improve these activities.
Their research found that cultural & historical sites and natural areas were the most attractive to those surveyed, which fits well with the ecotourism options in Hanno. UNU-IAS students also highlighted that cultural performances, hiking & trekking, and traditional arts & crafts are attractive and popular eco-tour activities for foreign visitors.
Following their presentation, students answered questions from the audience regarding the advantages and disadvantages of Hanno in comparison to more popular tourism destinations in Tokyo. The students will continue to contribute to promoting eco-tourism in collaboration with Hanno City beyond this coursework.