2017•03•28 Tokyo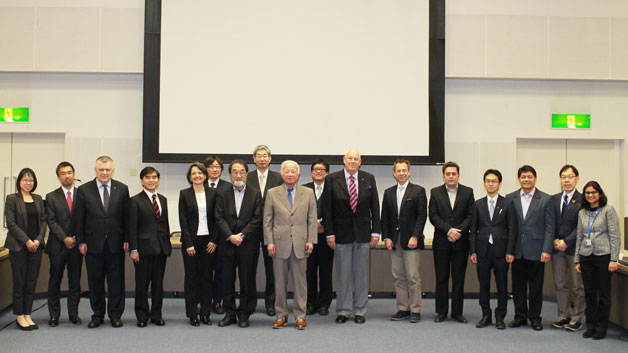 On 24 March 2017, Sustainability Science, UNU-IAS, the University of Tokyo, and the Sustainability Science Consortium (SSC) jointly organized an international symposium to commemorate the journal's tenth anniversary. This symposium focused on global partnerships in the evolving academic field of sustainability science and research over the past 10 years, updating the audience regarding the current knowledge and research priorities. The main discussion was on future research directions with a critical analysis of the Sustainable Development Goals (SDGs) from the perspective of how the science community can best contribute to their implementation.
The symposium began with opening remarks by UNU-IAS Senior Visiting Professor Kazuhiko Takeuchi, UNU Senior Vice-Rector Taikan Oki, MEXT Director-General for International Affairs Koichi Morimoto, and Springer Nature Executive Editor Alexandrine Cheronet. Takeuchi, also the editor-in-chief of the journal, discussed the key characteristics of sustainability science, the journal's evolution over the last 10 years, and opportunities and future directions for tackling complex issues of the discipline. Oki highlighted how collaboration with the journal is important for achieving the UNU objective of robust implementation of the SDGs.
Morimoto mentioned that SSJ is among the top 10 journals published in English in Japan and the first academic journal in sustainability science, and expressed his congratulations on the major footprint it has made internationally. Cheronet said that Sustainability Science has been at the forefront in this area for the past 10 years and has a key role to play in advancing the research for sustainability and developing solutions for the challenges faced in this area. She spoke about the growth of the journal and new initiatives taken by the publishers to encourage more research that contributes to our understanding of the questions and problems that exist.
Following the opening speeches, the first session explored the evolution and landscape of sustainability science over the past decade. For example, Nobuo Mimura of Ibaraki University talked about the interactive evolution of research and policy for climate change. He highlighted how we can achieve a sustainable future by building a climate-resilient society based on adaptation and mitigation, enhancing overall resilience, and achieving carbon neutrality. Richard Bawden of Western Sydney University, Australia emphasized the need to adapt our worldviews to address the modern societal issues linked to sustainability science, and to eliminate the perceived dichotomy between social sciences and natural sciences.
 
The second session, chaired by UNU-IAS Academic Programme Officer and SSJ Managing Editor Osamu Saito, homed in on future research directions for sustainability science and the SDGs in the coming decade. Norichika Kanie of Keio University presented unique features of the SDGs and introduced recent work from Future Earth's SDG Knowledge Action Network and discussed transdisciplinary possibilities for promoting the SDGs.