2016•05•26 Tokyo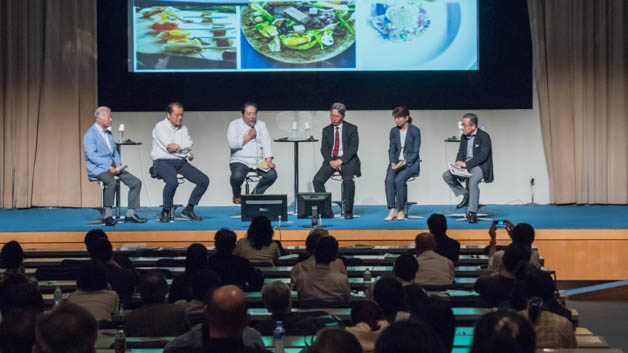 On 21 May 2016, UNU-IAS organized a symposium to celebrate the International Day for Biological Diversity, in collaboration with the Ministry of the Environment of Japan and the Global Environmental Outreach Center (GEOC).
At the opening of the symposium, remarks by Dr. Kazuhiko Takemoto (Director, UNU-IAS) highlighted the contributions of UNU-IAS towards mainstreaming biodiversity, through the institute's involvement in scientific research projects and partnerships with local communities.
In a keynote speech, Prof. Kazuhiko Takeuchi (Senior Vice-Rector, UNU) presented on national development underpinned by mori (forests), sato (the countryside), kawa (rivers), and umi (the sea). He stressed that realizing a sustainable nation in harmony with nature required rebuilding the relationship between people and nature in communities.
The symposium also included a dialogue on sustainable lifestyles, featuring Daisuke Yosumi (CEO, Lake Edge Nomad Inc.), who leads a natural lifestyle in New Zealand, and Arisa Kamada, a model who also works as an ethical fashion planner. Case reports on sustaining biodiversity were also presented, followed by panel discussions. Through these presentations and discussions, the panelists emphasized building a framework to link consumers and producers in harmony with mori, sato, kawa and umi. They also stressed the need for consumers to make informed choices with a view to protecting biodiversity. The discussion concluded with a call for all stakeholders to collaborate, and continue to be committed to protecting biodiversity.
In parallel with the symposium, GEOC organized an exhibition to introduce biodiversity actions and local projects certified by the Japan Committee for the United Nations Decade on Biodiversity (UNDB-J).
The United Nations proclaimed 22 May as the International Day for Biological Diversity to promote greater understanding and awareness of biodiversity issues. The theme for 2016 is Mainstreaming Biodiversity; Sustaining People and their Livelihoods.