2023•03•13 Kanazawa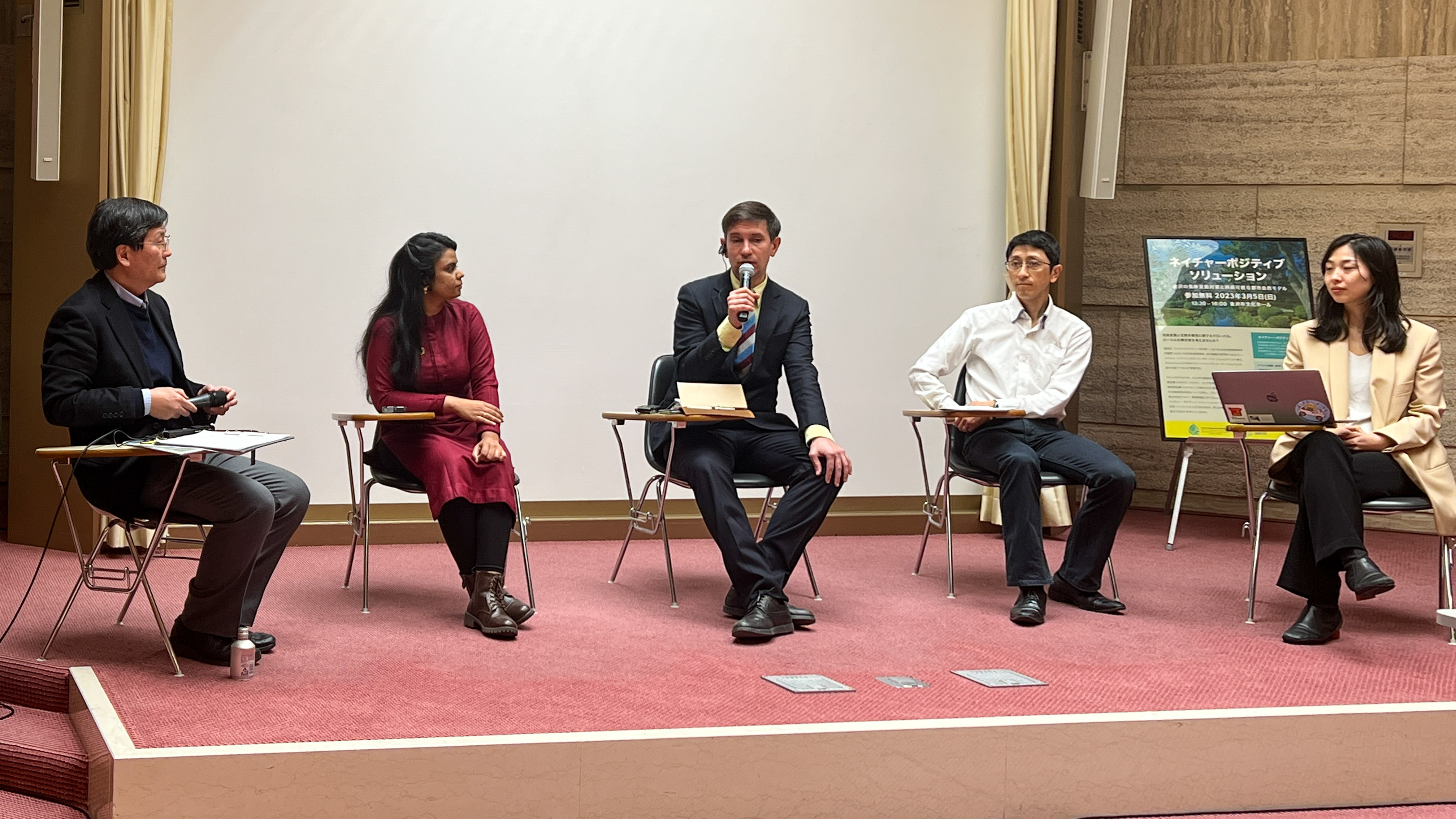 On 5 March 2023, UNU-IAS organised a symposium on the theme Nature-Positive Solutions: Kanazawa's Model for Climate Action and Sustainable Urban Nature. The event discussed the outcomes of the 2022 UN Climate Change Conference (COP27) and the 2022 UN Biodiversity Conference (COP15), and introduced efforts in Kanazawa City, Japan to promote green spaces as a nature-based solution to climate change. The event was organised by the UNU-IAS Operating Unit Ishikawa/Kanazawa (OUIK).
In opening remarks, Tsunao Watanabe (Senior Programme Coordinator, UNU-IAS) explained that the objective of the nature-positive approach was to restore rather than maintain biodiversity. He expressed his gratitude for the opportunity to hold the symposium in the same year that OUIK was celebrating its 15th anniversary.
Takashi Murayama (Mayor, Kanazawa City) introduced Kanazawa's Zero Carbon City declaration on climate change mitigation and protection of biocultural diversity, aiming to raise awareness and promote further efforts toward sustainability.
Kazuhiko Takeuchi (President, Institute for Global Environmental Strategies) presented on local actions in response to global issues such as climate change and biodiversity loss. He pointed out that since biodiversity, climate, and society were closely interrelated, it was important to maximise co-benefits and avoid trade-offs through effective governance.
Discussing recent trends in urban ecosystem services, Thomas Elmqvist (Professor, Stockholm Resilience Center) shared his reflections on the concepts of sustainability and resilience in urban nature, and introduced practical examples of building resilient cities.
A panel discussion explored climate–biodiversity synergy, urban nature benefits, heat island mitigation, and sustainability initiatives by Japanese youth. Mana Saza (Director, SWiTCH Association for Sustainability) highlighted the need to provide teacher education on sustainability, and create indicators that show changes to promote behavioral change.
In closing, Koji Nakamura (Professor Emeritus, Kanazawa University) stressed the need to promote open dialogue and encourage youth in Japan to address issues related to climate change, aging society, and depopulation.