2020•02•08 Tokyo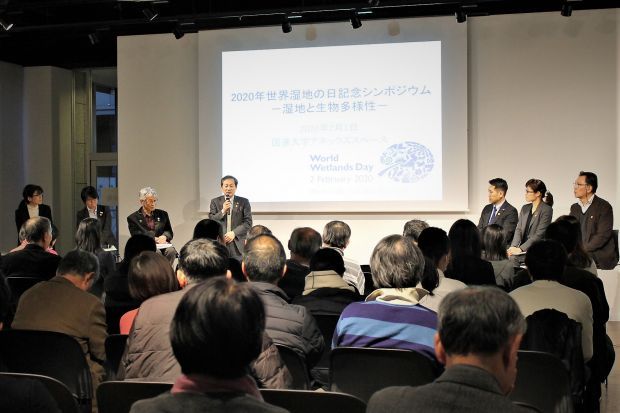 Celebrated every year on 2 February, World Wetlands Day (WWD) marks the date of the adoption of the Convention on Wetlands in Ramsar City, Iran in 1971.
On 1 February 2020, UNU-IAS, Wetlands International Japan (WIJ) and Global Environmental Outreach Centre (GEOC) co-organised a symposium to observe WWD 2020. The symposium focused on the theme for 2020 WWD, "Wetlands and Biodiversity". Specialists and practitioners engaged in local projects in Japan discussed the outcomes of their efforts and challenges to conserve biological diversity executed since the 2010 Conference of the Parties (COP 10) of the Convention on Biological Diversity. 
In the opening remarks, Tetsuya Yagi, Parliamentary Vice-Minister of the Environment, underlined the importance of conveying the value of wetlands to the next generation for making continuous effort to protect wetlands, some of which have been lost or damaged.
Yoshihiro Natori, Director, WIJ, showed the video message by Martha Rojas Urrego, Secretary General, Ramsar Convention on Wetlands, addressing how critical it is to protect wetlands for biodiversity conservation. He pointed out that this year would mark a turning point in deciding international targets for biodiversity policy for the next 10 years, therefore diversity was chosen as the theme for 2020 WWD.
Maiko Nishi, UNU-IAS Research Fellow, explained how the International SATOYAMA Initiative has been contributing to the Aichi targets and SDGs also introduced international projects aiming at enhancing biodiversity, while improving local people's lives through partnership with local communities, conducted by the International Partnership for the Satoyama Initiative (IPSI) , such as cases in Bangladesh and Ecuador.  In the future, the initiative plans to include promoting significance of the the landscape approach that has been led by the SATOYAMA Initiative even within a new biodiversity framework, through their continuous effort to contribute to international negotiation, working in cooperation other parties such as the initiative of Globally Important Agricultural Heritage Systems (GIAHS). 
Reporting on the results gained through long-term monitoring survey on wetlands located in coastal regions, Misuzu Aoki, Senior Research Officer, Wetlands International Japan, underlined that the data may be widely used effectively and contribute to development of wetlands conservation policy in the future.  
Masayuki Kurechi, Co-Representative, Ramsar Network Japan, introduced the Rice-paddy Biodiversity Enhancement Decade Project, which intends to enhance biodiversity in rice-paddy areas that also function as wetlands. He noted that this project showcased their activities trying to incorporate the effort for restoring biodiversity and its sustainable utilisation into socio-economic activities. They are planning to set up another decade project in conformity with SDGs and a new framework of the Convention on Biological Diversity, to promote and standardise their effort towards enhancing biodiversity both inside and outside Japan.
Hitoshi Miyagaki, Officer, Oriental White Stork and Human Co-existence Section, Oriental White Stork and Human Co-existence Department, Toyooka City, Hyogo Prefecture, gave an overview of their project for reintroduction of oriental white storks. It was started 65 years ago to conserve oriental white storks in Toyooka, and over the years it has developed to activities in other fields, such as agriculture, wetlands conservation, human resource development and environmental economics. The project is also expected to enhance connection with other areas where oriental white storks fly to, and exert to further promote local communities living in co-existence with oriental white storks. 
Junko Miyosi, Biodiversity Biwako Network, introduced the initiative that promotes biodiversity conservation through a project focusing on dragonflies found in Shiga prefecture, which has been hugely supported by several local business sectors. Through their regular events and activities, this initiative has been contributing to strengthening the network among private enterprises, specialists, local governments and local communities. She also explained the future plan for the project that aims at expanding their activities throughout Shiga prefecture, to contribute to further enhancing biodiversity.
Hiroshi Kono, Professor, Tokyo University of Marine Science and Technology, reported the results gained from their 10 year survey on habitation of fish, conducted in a wetland located within Tokyo bay area. The data shows several changes in conditions of the wetlands during the period: the quality of water has been improved, the sea temperature has been raised, and consequently the number of the fish that are opted to warmer water has been increased, and, due to topographical change, more and more fish are found today even in the inner part of the bay.  Finally he showcased the activities of Edomae Education for Sustainable Development (ESD) programme of Tokyo University of Marine Science and Technology (TUMSAT), the effort to create a platform open to everyone, including researchers, students and local people, to study about the sea near Tokyo, through their community-based collaborative activities among people from different backgrounds. It has been also developing human resources who will be contributing these community-based activities ultimately.
The presentations were followed by a Q & A session. The topics discussed ranged from wetlands conservation, including the necessity of strengthen of partnership among diverse parties, comparative study of local issues, localisation of the activities, engaging local people and enhancing their understanding to such activities, promoting importance of biodiversity both internationally and domestically, and encouraging governmental bodies to improve their policies.