2019•10•15 Tokyo
On 9 October 2019, UNU-IAS, together with the Ministry of the Environment, Japan (MOEJ) and the Ministry of Economy, Trade and Industry, Japan (METI), co-organised the G20 Resource Efficiency & Marine Plastic Litter Symposium. Through presentations and discussion, participants emphasised the need for a comprehensive system and collaborative global efforts to combat marine plastic litter.
The symposium was part of a series of events hosted by UNU-IAS during 8–11 October 2019, the G20 Resource Efficiency Dialogue 2019 and Follow-up of the G20 Implementation Framework for Actions on Marine Plastic Litter.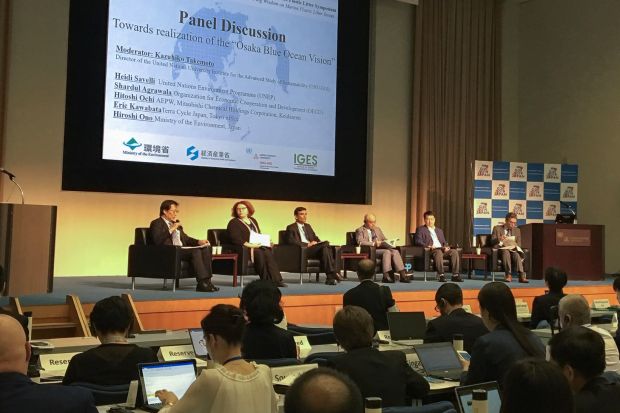 In opening remarks, Hirotaka Ishihara (State Minister of the Environment, Japan) underlined the urgent need for action towards the realization of the Osaka Blue Ocean Vision. He called for G20 member countries to demonstrate leadership, to unite efforts, and to accelerate measures to combat marine plastic litter at a global scale.
Hiroshi Ono (Director General, Environmental Management Bureau, MOEJ) shared the outcomes of the G20 Ministerial Meeting on Energy Transitions and Global Environment for Sustainable Growth and the G20 Implementation Framework for Actions on Marine Plastic Litter. He introduced relevant policies of the Government of Japan, including for the collection and appropriate treatment of plastic waste, 3R, capacity building in developing countries, innovation, and accumulation of scientific knowledge.
Tomoyoshi Yahagi (Deputy Director General for Technology and Environment, METI) introduced collaborative measures to promote innovation in reducing plastic litter, such as the establishment of a technology roadmap for marine biodegradable plastics, strengthening support measures for R&D, and dissemination of technologies.
Kazuhiko Takemoto (Director, UNU-IAS), moderated a panel discussion on the topic "Towards realization of the Osaka Blue Ocean Vision," drawing attention to the transformational benefits of existing innovations and alignment with multiple stakeholders to achieve common objectives. Heidi Savelli of UNEP outlined efforts to develop action plans and support countries in delivering priority interventions based on scientific knowledge. Shardul Agrawala of the OECD highlighted policy solutions for plastic resource circulation, including addressing demand (e.g., taxes on virgin plastics and better management of trade in waste plastics) and supply-side measures (e.g., introducing multiple stream collection systems and extended producer responsibility). Hitoshi Ochi of AEPW introduced strategies to catalyse public and private investment and to engage communities, focusing on infrastructure, innovation, education and engagement, and clean up programmes. Eric Kawabata of Terra Cycle Japan stressed the need to provide pathways for consumers, producers, and retailers to shift and collectively solve the unintended consequences of waste.