2023•05•18 Tokyo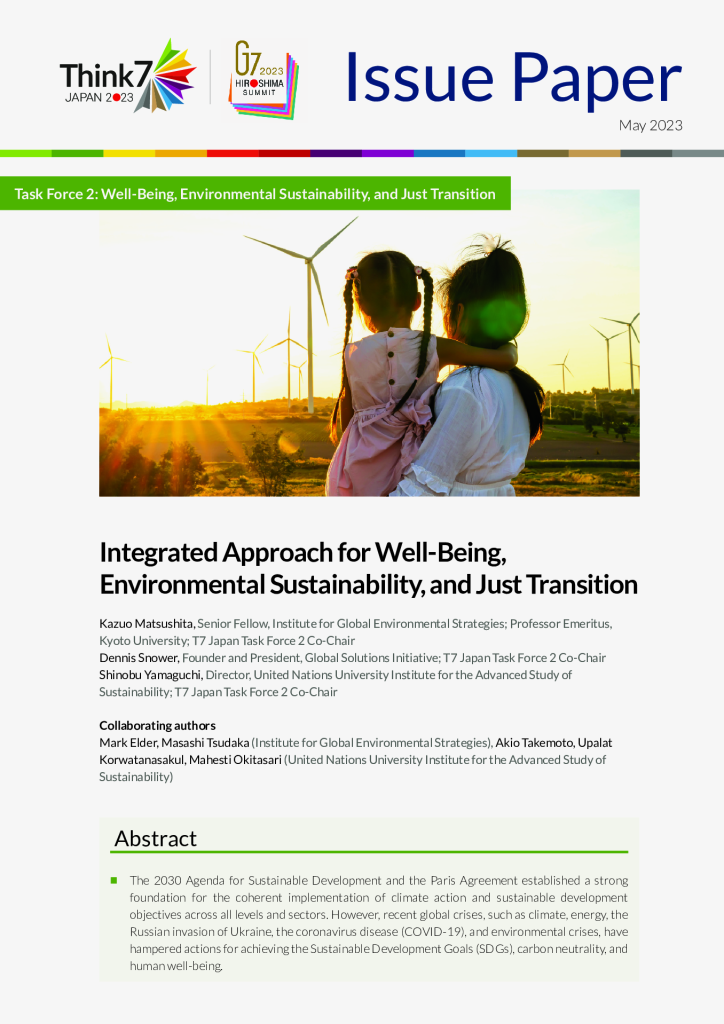 A new publication calls on G7 leaders to reignite action for the SDGs, carbon neutrality, and climate-resilient development, in close collaboration with other G20 leaders. Ahead of the G7 Hiroshima Summit (19–21 May), it advocates an integrated and holistic approach to advance measures related to finance, science and technology, governance, capacity building, and education based on scientific evidence.
The issue paper, Integrated Approach for Well-being, Environmental Sustainability, and Just Transition, is an output of a Think7 (T7) Japan task force on the same topic, which was co-chaired by UNU-IAS. Its recommendations were presented and discussed at the T7 Japan Summit on 27–28 April 2023.
The paper is authored by the three co-chairs of T7 Task Force 2: Kazuo Matsushita (Senior Fellow, Institute for Global Environmental Strategies; Professor Emeritus, Kyoto University), Dennis Snower (Founder and President, Global Solutions Initiative), and Shinobu Yume Yamaguchi (Director, UNU-IAS). The collaborating authors include UNU-IAS experts Akio Takemoto (Programme Head), Upalat Korwatanasakul (Consultant), and Mahesti Okitasari (Consultant).
Recognising that recent crises have held back progress on the SDGs, carbon neutrality, and well-being, the paper underlines that environmental sustainability is a prerequisite to achieving other priorities of the G7 — including economic prosperity, energy security, global health, and education. It argues that the war in Ukraine "should be a turning point in seizing the opportunity to address the world's unfolding climate crisis by rapidly reducing the reliance on fossil fuels."
The paper's recommendations address the integrated efforts needed for decarbonisation; sustainable food systems and biodiversity conservation; resilience and social protection; measurement of just transition and well-being; partnerships for climate action and sustainable development; and capacity, education, and youth empowerment. While they require a substantial increase in support from the G7 to developing countries, implementing the recommendations could significantly reduce climate insecurity and be pivotal in efforts to achieve the SDGs.
In recommending institutional capacity building, the paper highlights training on greenhouse gas accounting for the Paris Agreement, which will be implemented by UNU-IAS as part of its postgraduate degree programmes. The institute is launching a new degree specialisation on the Paris Agreement in September 2023, which will be the first of its kind to be offered by a UN organisation.
Policy Recommendations
Ensure universal access to carbon-neutral energy systems
Promote sustainable food systems and biodiversity conservation
Enhance resilience, social protection, and social sustainability
Scale up financing for promoting a just transition
Create an annual, consistent mechanism to measure just transition, environmental sustainability and well-being
Strengthen partnerships for climate and sustainable development
Enhance capacity and promote education and youth empowerment
Background
Think7 (T7) is the official think tank engagement group of the Group of 7 (G7). Under the T7 process, global think tank experts develop research-based policy recommendations for consideration by G7 countries and partners, in coordination with the G7 presidency.
UNU-IAS played a key role in T7 Task Force 2, which focused on Wellbeing, Environmental Sustainability, and Just Transition, by conducting research and producing policy recommendations to address these interlinked issues.