2023•01•20 Online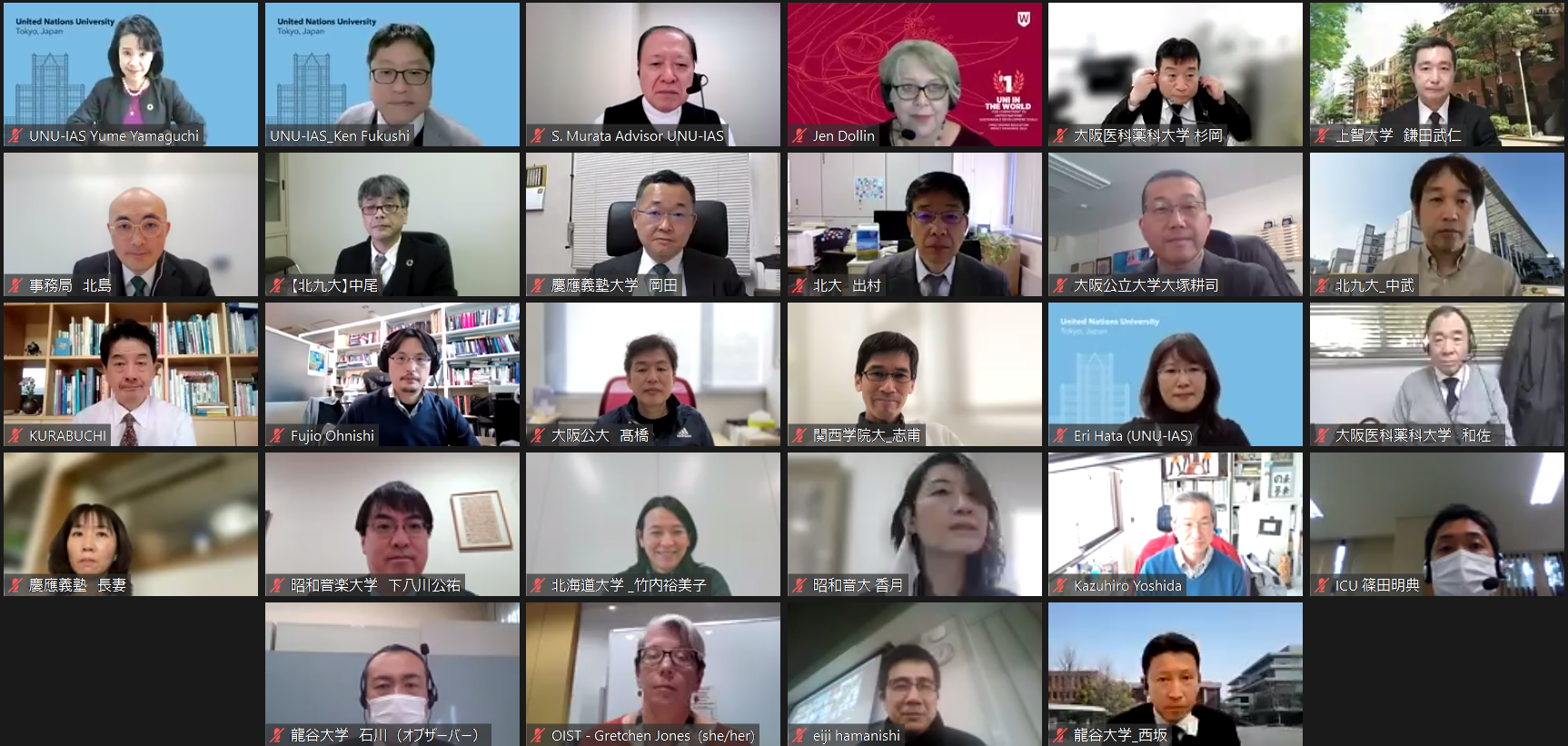 On 17 January 2023 UNU-IAS organised the 22nd workshop of the SDG–Universities Platform (SDG-UP). The online event featured guest speaker Jen Dollin, Director of Sustainability Education and Partnerships at Western Sydney University (WSU) in Australia.
Opening the session, Shinobu Yume Yamaguchi (Director, UNU-IAS; Chair, SDG-UP) introduced Ms Dolin and highlighted the efforts of SDG-UP to improve cooperation between universities. Ms. Dolin discussed the wide-ranging sustainability initiatives at WSU, which is a large comprehensive public university in Australia. Since its founding, the school has conducted sustainability research and education while respecting Aboriginal and other indigenous cultures and traditions, and carefully preserving the unique biodiversity of the Western Sydney region.
She explained that the university was ranked first in the world in the Times Higher Education (THE) 2022 Impact Rankings because of the investment of money and time; the deployment of personnel across the organisation; and leadership from both directions: bottom-down cooperation from the university's management and bottom-up cooperation from the faculty and staff. She highlighted that leadership was critical to advancing sustainability in higher education and key to success in the rankings, and emphasised the importance of effective change management.
Shunichi Murata (SDG-UP Advisor, Professor of Kwansei Gakuin University) noted that Ms Dolin had significant responsibility in leading her university's sustainability efforts as a university staff and not a faculty member. He noted that it would be desirable to see more pronounced behavioral changes in Japan that would allow university staff to exercise more initiative. Prof. Murata concluded that the challenge for the year ahead would be for the university management to develop further strategies to facilitate the cooperation between faculty, staff, and students.
A detailed report of the workshop is available in Japanese.
Participating Universities
This workshop engaged 20 participating universities, which are listed below in alphabetical order.
Chiba University of Commerce
Hiroshima University
Hokkaido University
International Christian University
International University of Japan
Kanagawa University
Kanazawa University
Keio Gijuku University
Kwansei Gakuin University
Notre Dame Seishin University
Okayama University
Ochanomizu University
Okinawa Institute of Science and Technology
Osaka Medical and Pharmaceutical University
Osaka Metropolitan University
Ryukoku University
Showa University of Music
Sophia University
The University of Kitakyushu
Tokyo Institute of Technology