2014•11•06 Tokyo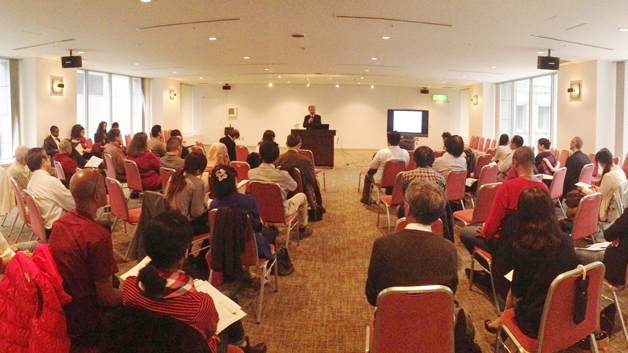 UNU-IAS held the second lecture of its new "Mandela and I" series on 1 November 2014. The lecture was delivered by Mr. Yasushi Naito (Executive Director to the Director General, Africa Department, Japan International Cooperation Agency). Mr. Naito was the first Japanese official to meet Nelson Mandela after he was released from prison. During the lecture, Mr. Naito shared his personal experiences ranging from the tense events prior to former President Mandela's release, to meeting him in person. Mr. Naito referred to these as "Mandela Moments", in which the former President's leadership inspires people, as when the whole country worked as a united South Africa toward one common goal, to win the 1995 Rugby World Cup, which was portrayed in the movie "Invictus". The final segment of the lecture was open to questions from the audience, covering myriad topics from the role of the education, to the role of younger generations and the leadership skills needed to face current challenges.
"Mandela and I" is a monthly lecture series, designed for students who are interested in studying the lessons and legacies of Nelson Mandela as a way to improve their understanding of leadership and moral authority in the world. The lecture series is organized as part of the UNU-IAS project Education for Sustainable Development in Africa (ESDA), with the cooperation of the South African Embassy in Tokyo.
The next lecture will be held on 13 December 2014, featuring Mr. Thomas Kantha (Anti-Apartheid Ambassador, South African Embassy in Japan).