2019•05•29 Tokyo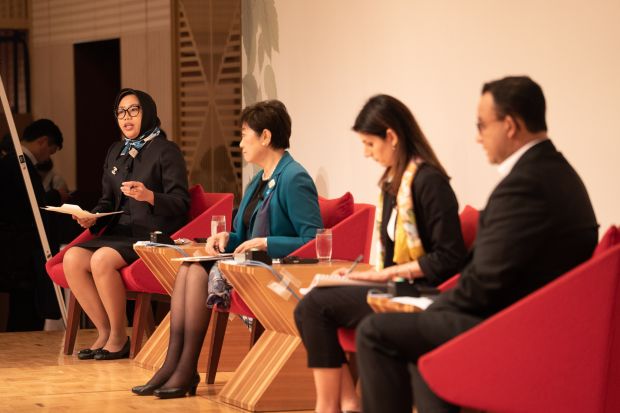 On 21 May 2019, UNU-IAS Academic Programme Officer Riyanti Djalante moderated a panel discussion on climate action at the Urban 20 (U20) Mayors Summit in Tokyo. The second meeting of its kind, the summit brought together the leaders of participating major cities to develop joint positions on pressing issues ahead of the annual G20 summit, which will be held in Osaka in late June 2019. Djalante, an expert on climate change and disaster risk reduction, led a discussion between Yuriko Koike, Governor of Tokyo; Anis Baswedan, Governor of Jakarta; and Virginia Raggi, Mayor of Rome. It focused on the need for stronger, bolder efforts to keep global warming within the 1.5ºC limit outlined last year in a special report by the UN Intergovernmental Panel of Climate Change (IPCC). Dr. Djalante served as a lead author on the IPCC report.
Through the discussion, Governor Koike shared the current climate strategies of the Tokyo government including a cap-and-trade programme and investment in energy-saving facilities. She also announced its Zero Emission Tokyo decarbonisation policy, designed to reach 30% below 2000 levels by 2030. Governor Baswedan discussed achieving of a 23% reduction of emissions thus far through changes in the transportation, energy, and building sectors. By 2030 Jakarta aims to make all public transportation emission-free. Mayor Raggi discussed Reinventing Rome, a project to renew and rebuild abandoned areas in a sustainable way.
Dr. Djalante concluded the session with a reminder that "cities must move quickly and rapidly from words to actions, not only to prevent the worst effects of climate change, but to adapt to the changes we are already facing."
The summit resulted in a communiqué that includes shared commitments on climate action.