2021•05•21
The UN system has adopted a common approach to integrating biodiversity and nature-based solutions for sustainable development into policies, programme planning and delivery.
As called for by UN Secretary-General António Guterres, "making peace with nature is the defining task of the 21st century. It must be the top, top priority for everyone, everywhere." Through this common approach, the UN system creates a strong commitment to mainstreaming biodiversity and catalysing collective action to address the drivers of biodiversity loss, restore ecosystems, and ultimately living in harmony with nature.
On 4 May 2021 the common approach was endorsed by the UN Chief Executives Board for Coordination — the highest-level coordination forum of the UN system. UNU-IAS led UNU's contribution to the drafting process, as part of a 17-agency task team of the UN High-Level Committee on Programmes.
The common approach provides the normative framework, in a results-based structure, to organise collective action and joint delivery to mainstream biodiversity and nature-based solutions. By leveraging the expertise, collaboration potential and convening power of the UN system, it will contribute to support the implementation of the post-2020 global biodiversity framework in alignment with the 2030 Agenda for Sustainable Development and the Paris Agreement.
The UN system should pursue the 15 medium term objectives of the common approach in partnership with governments, business and civil society. They set the overall strategic intent, and each contribute to at least one of the three impact areas: (i) human rights, peaceful societies, and planetary stability; (ii) a green and inclusive economic recovery; and (iii) strengthened institutions, accountability, and justice: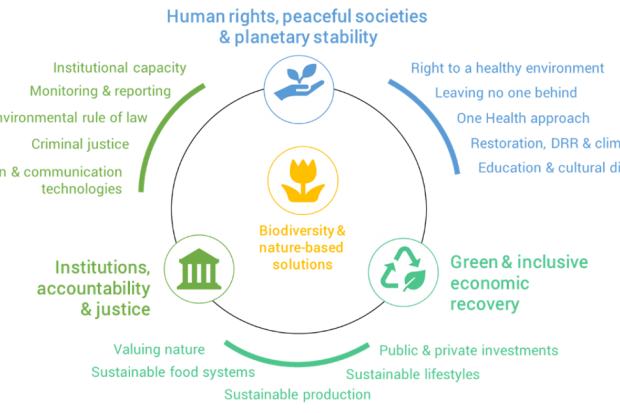 An annex provides an illustrative list of practical interventions the UN system can jointly pursue to implement the common approach.