2021•05•18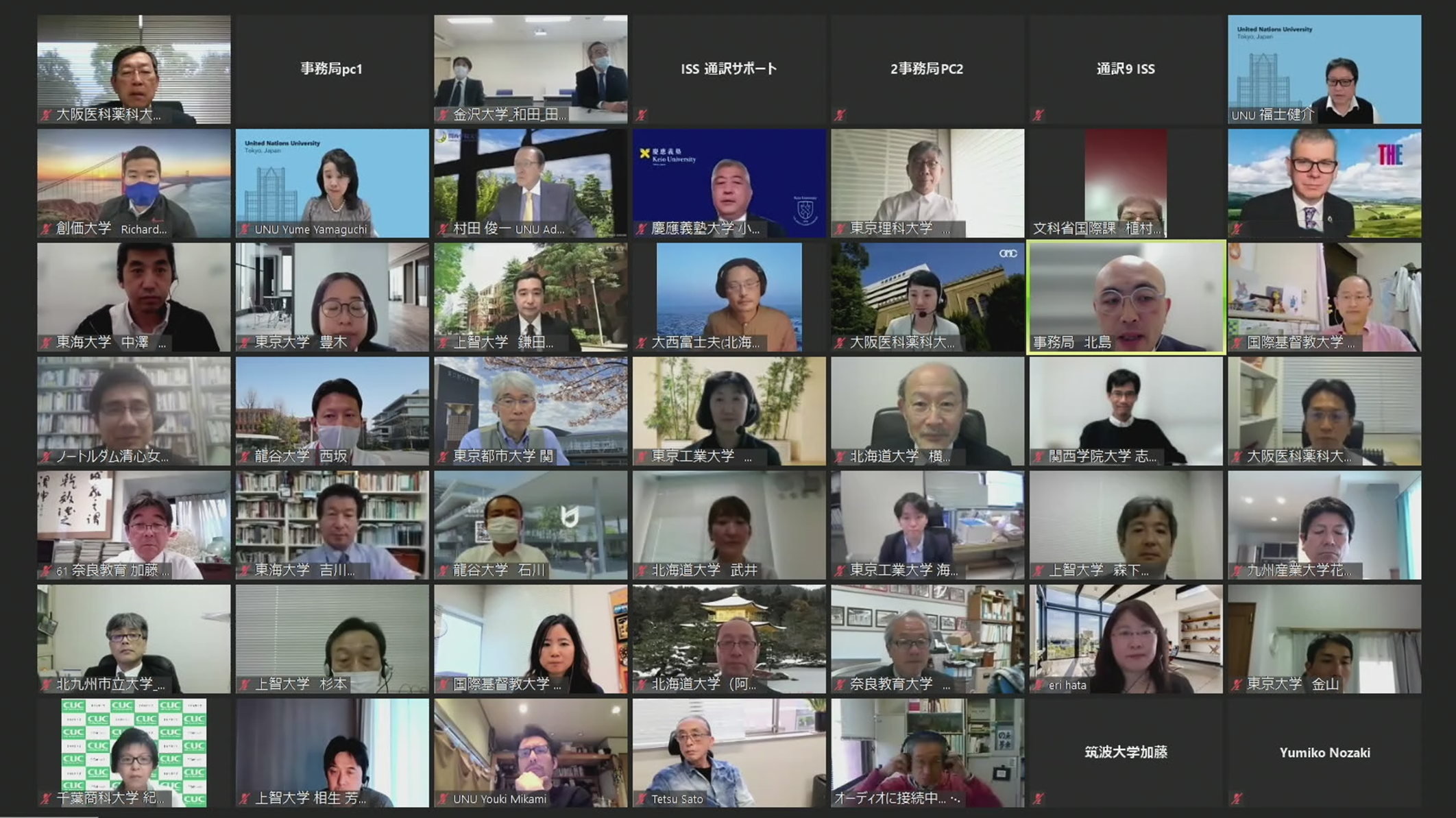 UNU-IAS organised the seventh workshop for the UNU SDG–Universities Platform (SDG-UP) on 12 May 2021 through videoconferencing. There were 78 participants from 26 participating universities across Japan. Duncan Ross (Chief Data Officer, Times Higher Education (THE), was invited to share insights about the 2021 Impact Ranking released in April.
He shared that there are 25,000 universities in the world, that higher education activities account for 1.7 percent of the world's gross domestic product, that they have close ties to their local communities, and that they should be central to promoting a sustainable society. In the impact ranking, questions are set regarding the goals of each of the four aspects: 1) research, 2) stewardship (physical and human resource management), 3) outreach, and 4) education.
In 2021, the number of participating schools has expanded to 1,240, and this year's assessment scores were generally more challenging than last year. Data analysis showed very different results in the comparison between Europe and Asia. The participation of Japanese universities increased from 72 in the previous year to 85 in 2021, with seven universities ranked between 101st and 200th. They performed well on Sustainable Development Goals (SDGs) such as Goal 3 (good health and well-being), Goal 6 (clean water and sanitation), Goal 9 (industry, innovation, and infrastructure), Goal 13 (climate action), and Goal 16 (peace and justice strong institutions). For the purposes of transparency and fairness, an advisory board will be established and will include experts such as Shinobu Yamaguchi (Director, UNU-IAS) and a diverse group of experts from higher education institutions in New Zealand, the United States, and the United Kingdom.
A question and answer session with Duncan Ross followed this initial presentation. In response to a question about whether universities that specialise in social sciences are less likely to be evaluated than those that specialise in natural sciences, and whether an overall evaluation of the three goals selected by each university would not emphasise the strengths of each university, Ross said that it is possible for even small specialised universities to make a significant impact on society by using their strengths and methods and those readers and other stakeholders are demanding an overall evaluation.
In the discussion among the participating universities in the latter half of the session, there was a lively exchange of opinions on the active dissemination of information overseas, the sharing of high school and university collaborative efforts, and the promotion of collaboration through consortiums with local communities and other universities. In conclusion, Shunichi Murata (Advisor, SDG-UP; Kwansei Gakuin University) stated that he would like to think about how to effectively utilise this ranking as a guideline for university reform while respecting individuality of each of the universities. He also suggested the impact of the ranking system on the management level. He also concluded by saying that he would like to consider "What is a good university?" as an issue to be addressed in the SDG-UP, aiming to create universities that can contribute to the region.
A detailed report of this workshop is also available in Japanese.
26 participating universities (in alphabetical order)
Aoyama Gakuin University
Chiba University of Commerce
Ehime University
Hiroshima University
Hokkaido University
International Christian University
International University of Japan
Kanazawa University
Kwanseigakuin University
Keio Gijuku University
Kitakyushu City University
Kyushu Sangyo University
Notre Dame Seishin University
Nara University of Education
Osaka University
Osaka Medical and Pharmaceutical University
Ryukoku University
Soka University
Sophia University
Tokai University
Tokyo City University
Tokyo Institute of Technology
Tokyo University of Science
Toyo University
Tsukuba University
University of Tokyo