2021•04•12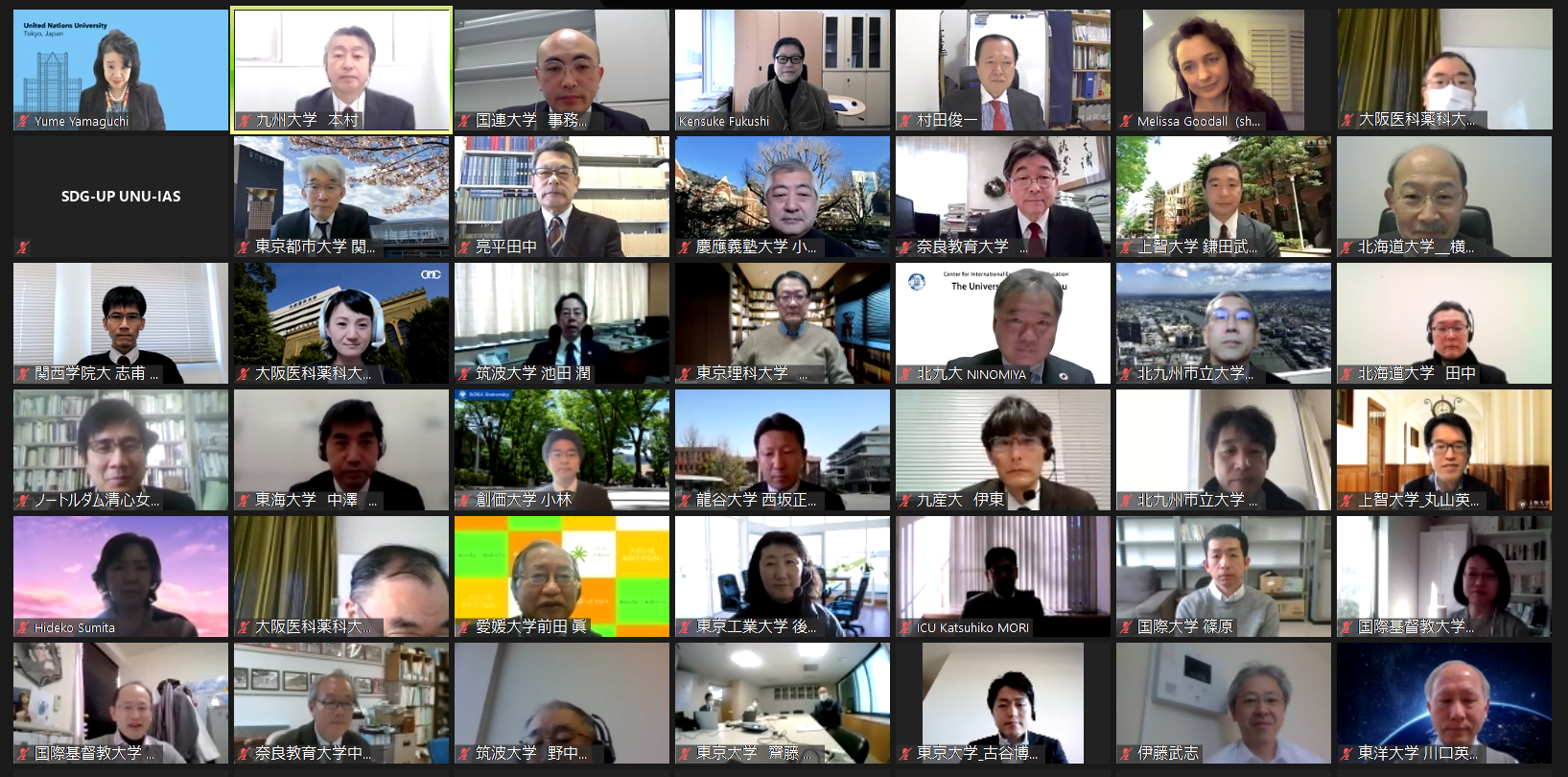 On 18 February 2021, UNU-IAS organised the fifth workshop of the SDG–University Platform (SDG-UP) through videoconferencing. There were 49 participants from 24 universities across Japan. Melissa Goodall (Deputy Director, Yale Office of Sustainability, Yale University) discussed their efforts, which has a long history of developing sustainability activities in the United States of America.
Dr Goodall shared some of the reasons behind the success of their sustainability efforts, stressing that factors such as the existence of experts, trial and error, neutrality, and passionate students boosted their endeavours. She shared sentiments about the joys of seeing students eventually becoming change-makers and demonstrating their abilities in society.
Shinobu Yume Yamaguchi (Director, UNU-IAS) summarised these ideas, and an open discussion session centred around ways for universities to implement course content related to the SDGs, how to include all staff in the implementation process, raising specific funding for SDGs implementation, and the need for evaluation mechanisms.
Shunichi Murata (SDG-UP Advisor; Professor, School of Policy Studies, Kwansei Gakuin University) acknowledged the challenges faced by Dr. Goodall and commended her efforts. He reiterated the points raised by Prof. Yamaguchi, adding that it is important to involve administrative staff from the early planning stages of any project and that higher education must seek to integrate expertise and interdisciplinary values to meet the needs of society.
A detailed report is available (Japanese).
24 participating universities (in alphabetical order)
Ehime University
Hiroshima University
Hokkaido University
International Christian University
International University of Japan
Kwanseigakuin University
Keio Gijuku University
Kitakyushu City University
Kyushu Sangyo University
Notre Dame Seishin University
Nara University of Education
Osaka University
Osaka Medical and Pharmaceutical University
Ryukoku University
Soka University
Sophia University
Tokai University
Tokyo City University
Tokyo Institute of Technology
Tokyo University of Foreign Studies
Tokyo University of Science
Toyo University
Tsukuba University
University of Tokyo