2022•03•18 Online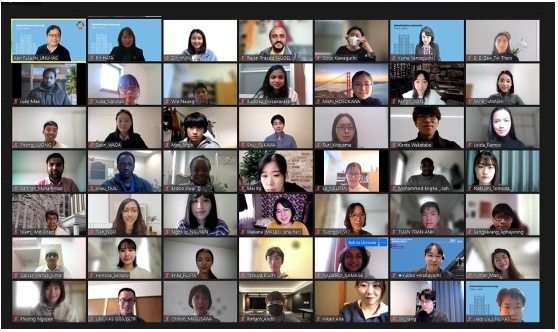 On 8–12 March 2022 UNU-IAS organised the 37th UNU Global Seminar aiming to enhance awareness of global environmental issues under the theme Advancing Efforts on the SDGs in the Anthropocene. Bringing together researchers and 60 students from 20 universities across Japan, the seminar examined the impacts of climate change with a focus on biodiversity, water, and education, and the actions needed to achieve the SDGs. The seminar was held online with support from the Ministry of Education, Culture, Sports and Technology of Japan and the Japan Foundation for the United Nations University.
Student reports from the seminar are available on the Related Files tab.
The UNU Global Seminars began in Japan in the Kanto area in 1985 with the first Shonan Session, and in the Kansai area in 1995 with the Kobe Session. In Japan, additional UNU Global Seminars have been held in Tohoku, Shimane-Yamaguchi, Hokkaido, Kobe-Awaji, Kanazawa, and Okinawa. Sessions have also been held abroad, including the Seoul (South Korea) Session in 2003. Individuals from all over Japan are invited to participate in the UNU Global Seminars to be held in Japan. Detailed information is available here.