2019•09•06 Tokyo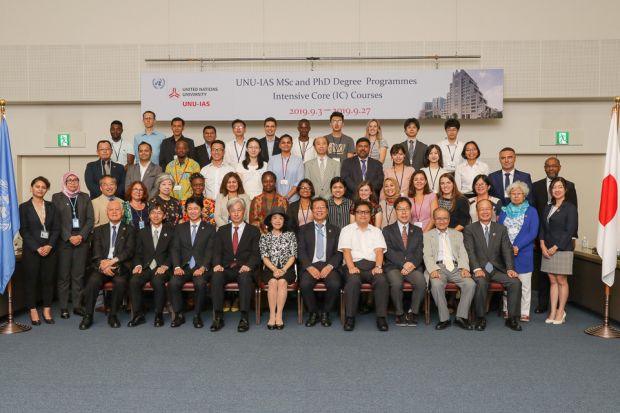 An opening ceremony on 3 September marked the commencement of the 2019 academic year at UNU-IAS. Twelve new students matriculated (nine to pursue an MSc. and three a Ph.D.), while eight students from partner universities (the University of Tokyo and Sophia University) and six participants from other institutes are currently enrolled in the Intensive Core (IC) Courses. This year's total number of participants is 26.
The IC Courses comprise three courses; UN System and Sustainable Development, Global Change and Planetary Boundaries, and Natural Capital and Biodiversity. They serve as a core component of the institute's master's and doctoral programmes. Students attend all-day lectures for four weeks, with the attendance of students from partner universities and participants from other institutes fostering intercollegiate exchange.
The opening ceremony featured welcoming remarks from Kazuhiko Takemoto (Director, UNU-IAS) and closing remarks from Shinobu Yamaguchi (Director-Designate, UNU-IAS). Osamu Saito (Academic Director and Academic Programme Officer) provided details about the programmes and what students can expect over the next month, and each course was introduced by its course coordinator.