2020•04•23 Tokyo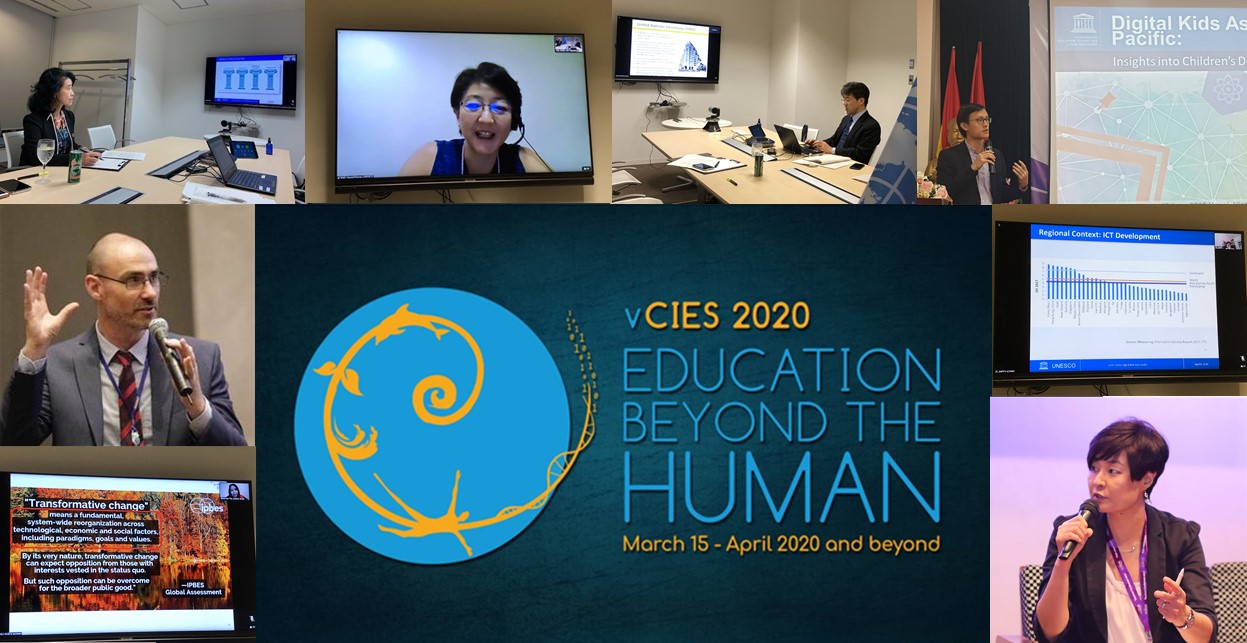 On 8 April 2020, UNU-IAS, jointly with UNESCO Bangkok and UNESCO Institute for Lifelong Learning (UIL), organised a virtual Panel Session for the Comparative and International Education Society (CIES). Joined by approximately 100 participants worldwide, the virtual panel session "Generating transformative change through reframing education within and beyond school settings" covered diverse topics under the CIES2020 Conference theme "Education beyond the Human". Behavioural changes to address global environmental problems, such as climate change and biodiversity loss, should be transformative rather than incremental. Education is the first step to this mindset shift, and it has to be reframed beyond conventional approaches to respond to the challenges we are facing dynamically.
UNU-IAS Director, Shinobu Yume Yamaguchi chaired the session, which was composed of four presentations and discussion. Mark Manns (UNESCO Bangkok) introduced UNESCO's "Happy Schools Project", which endorses diverse educational approaches that value and nurture learners' holistic development. Referring to the results of pilot studies in three Asian countries, he emphasised that happiness and education quality are inseparable and that learners become agents of change and contribute to building equitable, fair and sustainable societies. Hiroaki Takiguchi (UNU-IAS) focused on a multi-stakeholder approach for Education for Sustainable Development (ESD) beyond school settings. Bringing up cases of Regional Centres of Expertise (RCEs) on ESD, which UNU-IAS serves as the Global Service Center, multi-stakeholders can learn collaboratively and make collective decisions and actions towards sustainable development and ESD within a local context. Evonne Yiu (UNU-IAS) showcased the "Satoyama Initiative" approach to foster community-based learning and action for biodiversity conservation. She exemplified community-based learning for revitalizing and conserving human-influenced socio-ecological production landscapes and seascapes (SEPLS) and stressed three levels for transformative change: Structure, Behavior, and Consciousness. Jonghwi Park (UIL) featured the UNESCO "Digital Kids Asia-Pacific Project" which aims to foster digital citizenship among children and youth beyond ICT skills. Based on the key findings of the study targeting more than 5,000 students in four countries in the Asia-Pacific region, she underscored children's relatively low digital creativity and innovation, and the digital divide that affects children's digital citizenship competencies.
Maki Hayashikawa (UNESCO Bangkok) in her synthesis commended these diversified approaches highlighted by the four speakers as timely in this challenging time when the world is facing "an invisible enemy, COVID-19". She pointed out that through tackling the coronavirus outbreak, we should also take the opportunity to bring about transformative changes by reframing the system and concept of education. At the discussion, issues relating to RCEs operation and the emphasis on the relationship between human beings and the environment by the Satoyama Initiative were also discussed. Participants were particularly interested in UNESCO projects and raised some questions to clarify the modalities.
Concluding the session, UNU-IAS Director Yamaguchi emphasised that the dynamic reform of education to bring about transformative change and paradigm shifts is pivotal to a sustainable planet.
The presentations from this session are available in the Related Files tab.