2021•12•22 Tokyo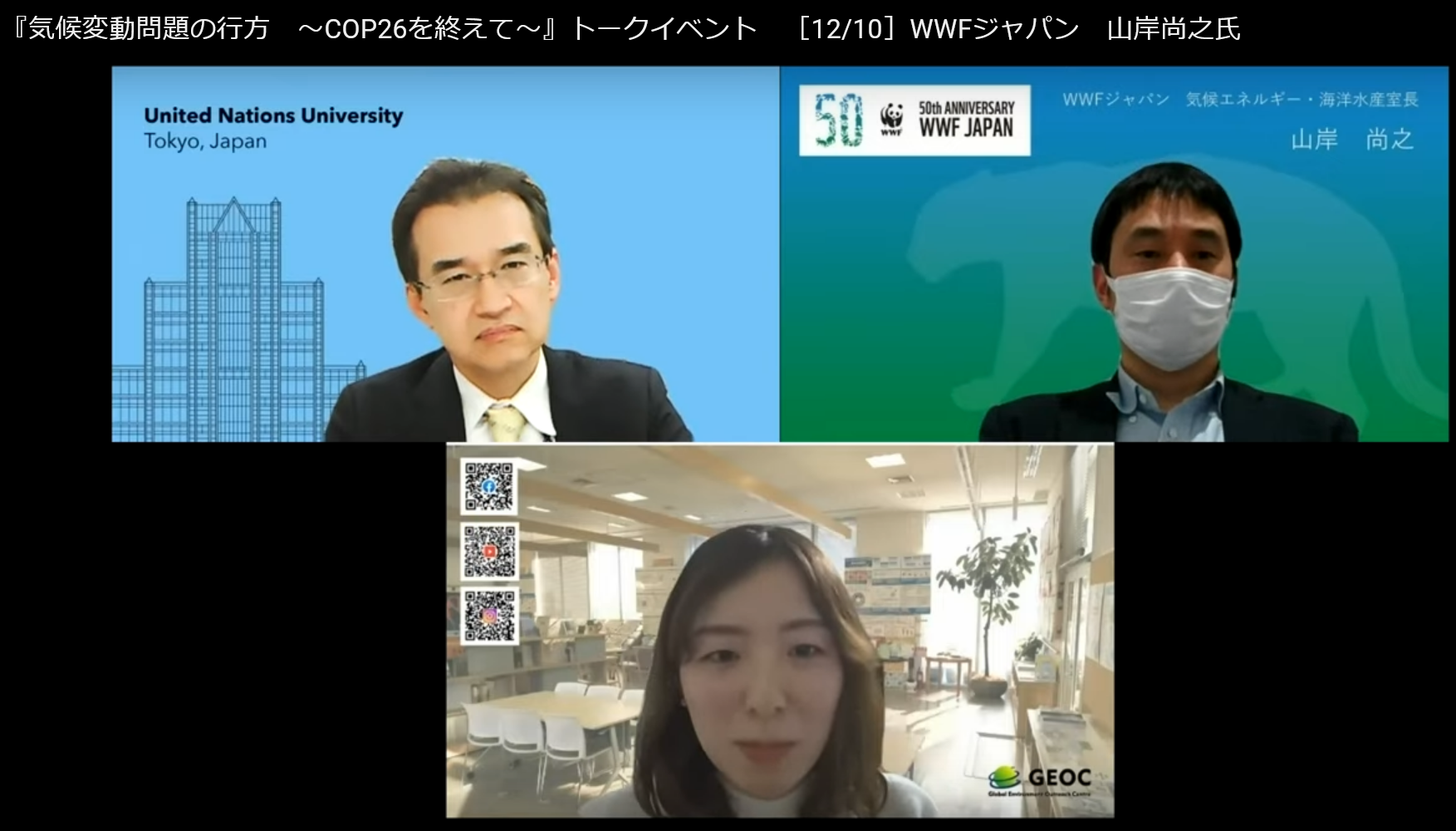 On 10 December 2021, UNU-IAS hosted "After COP26: What Are the Next Steps for Climate Change? A Dialogue with Naoyuki Yamagishi (WWF Japan)", the first of a series on the outcomes of the 26th UN Climate Change Conference (COP26). The discussion featured two experts who participated in COP26, Akio Takemoto (Programme Head, UNU-IAS) and Naoyuki Yamagishi (Head of Climate & Energy and Oceans & Fisheries Division, World Wildlife Fund Japan — WWF Japan). The event was an initiative of the Global Environmental Outreach Centre (GEOC).
Both speakers remarked on the record-breaking number of attendees at this year's conference, and the increased networking opportunities made possible by the involvement of the private sector, NGOs, and research institutes. They were also impressed by the popularisation of hybrid events which enabled more people to attend, despite the COVID-19 travel restrictions. When asked about climate change mitigation, Mr. Yamagishi explained that there were two types of solutions: enlarging the range of actors and strengthening actions. He observed that private companies and the financial sector were also getting involved in climate action and aiming for net zero emissions. They also discussed UNU's newly announced UNU postgraduate degree specialisation on the Paris Agreement and its significance in the development of technical expertise and leadership needed to implement the Agreement on a local scale.
In closing remarks, Mr. Yamagishi shared a message for Japan. He encouraged all residents to seek out a variety of global resources to learn about sustainable development, in addition to what is available domestically. He also highlighted the importance of inclusiveness, as sustainable development should be everyone's concern, regardless of nationality and background.
A recording of the session is available on the GEOC Youtube Channel.