2021•12•22 Tokyo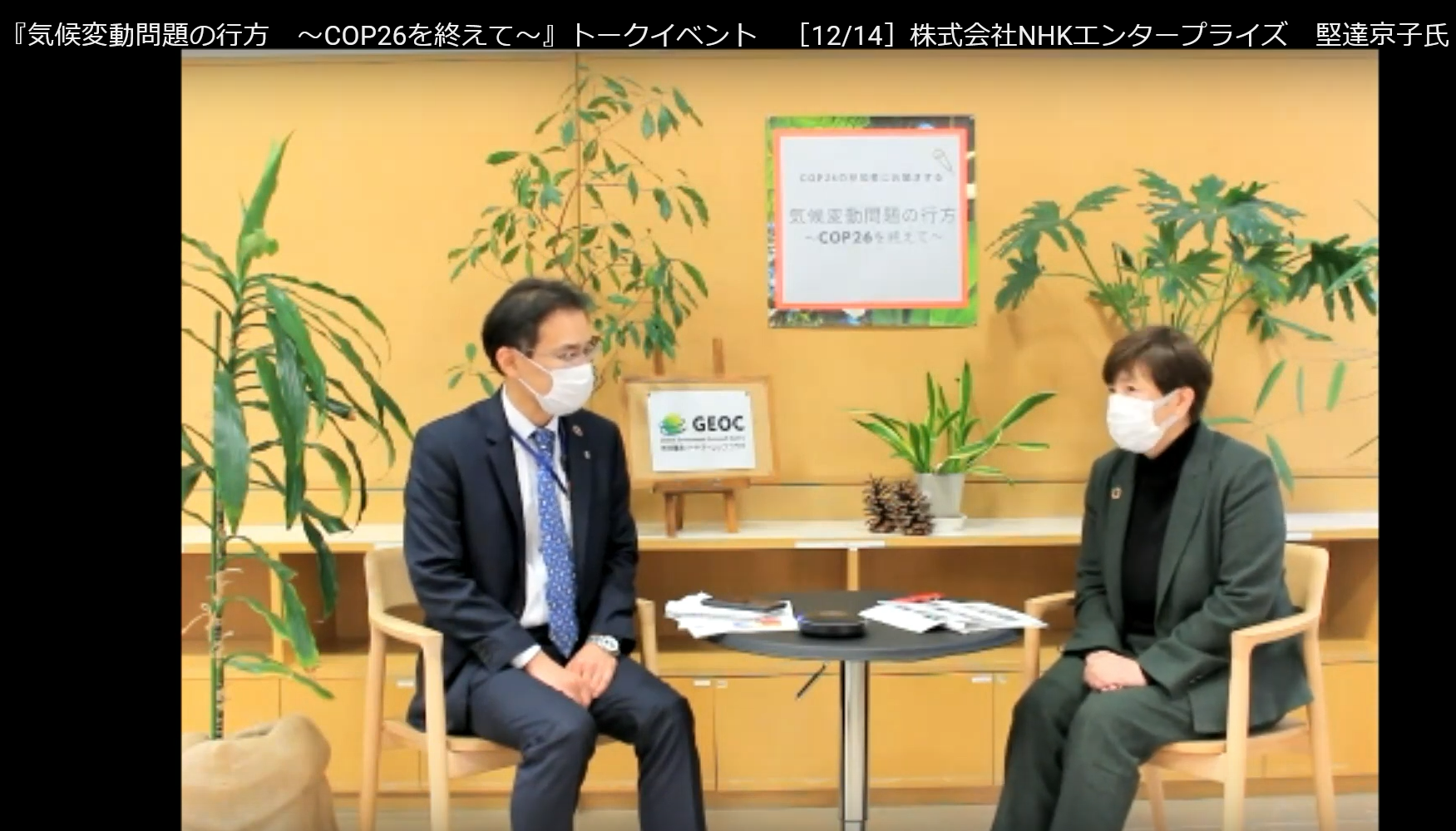 On 14 December 2021, UNU-IAS hosted "After COP26: What Are the Next Steps for Climate Change? A Dialogue with Kyoko Gendatsu (NHK Enterprises Inc.)", the second instalment of a dialogue series on the outcomes of the 26th UN Climate Change Conference (COP26). Akio Takemoto (Programme Head, UNU-IAS) facilitated the session and interviewed guest speaker Kyoko Gendatsu (Executive Producer, NHK Enterprises Inc.). The event was organised by the Global Environmental Outreach Centre (GEOC).
Dr. Takemoto and Ms. Gendatsu began the conversation by reflecting on the efforts by the host country (United Kingdom) to warmly welcome COP26 participants, despite environmental concerns and COVID-19. Both were impressed by the innovative, environment-friendly services and products used at the conference, suggesting that Japan was slower in implementing them. Ms. Gendatsu commented on the remarkably large media presence at COP26.
The speakers reported that while COP26 failed to commit to phasing out coal-fired power, it marked a crucial step toward phasing down carbon emissions worldwide. They stressed the necessity of Japan's increased commitment to the 2030 Agenda, since current efforts were insufficient in comparison to other countries. Inspired by the suffering of Most Affected People and Areas (MAPA) and the young generation's enthusiasm shown by Japan's youth presence in Glasgow, they urged further action to improve climate change education and public awareness in Japan, and called on universities and the media to play a key role.
When discussing the newly launched UNU postgraduate degree specialisation on the Paris Agreement, the speakers agreed that education was a necessary tool to develop skills required to address climate change in different sectors, such as nature-based solutions in manufacturing industries.
The session concluded with an inspirational message from Ms. Gendatsu who said that society must revolutionize the ways in which it operates to limit the global temperature rise to 1.5 degree by 2030. Since it might be humanity's last chance for survival, everyone's involvement is crucial.
A recording of the session is available on the GEOC Youtube Channel.