2015•06•04 Tokyo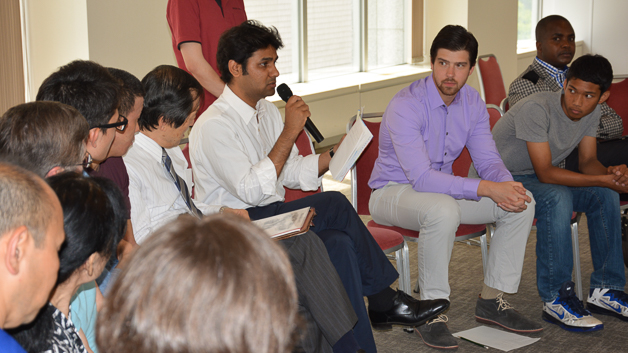 On 23 May 2015, UNU-IAS held a successful roundtable discussion with guest panelists Mr. Sibusiso Mpama (Third Secretary, Embassy of the Republic of South Africa in Tokyo) and Mr. Paul Ndungu (Deputy Head of Mission, Embassy of the Republic of Kenya in Tokyo), along with interactive activities involving all participants. The event was the fifth in the ongoing "Mandela and I" Lecture Series.
The event kicked off with a reflective session in which participants expressed their opinions by moving around the room. This was followed by a group discussion, with participants asked to come up with questions for the final roundtable. Both panelists and participants shared their opinions on issues related to leadership, including youth leadership, the role of women in leadership, Mandela's leadership legacy, xenophobia in South Africa, and global leadership.
The next lecture in the Mandela and I series will be held on 13 June 2015, featuring Father Michael Lapsley (Representative of the Institute for Healing of Memories, Cape Town).