2023•08•23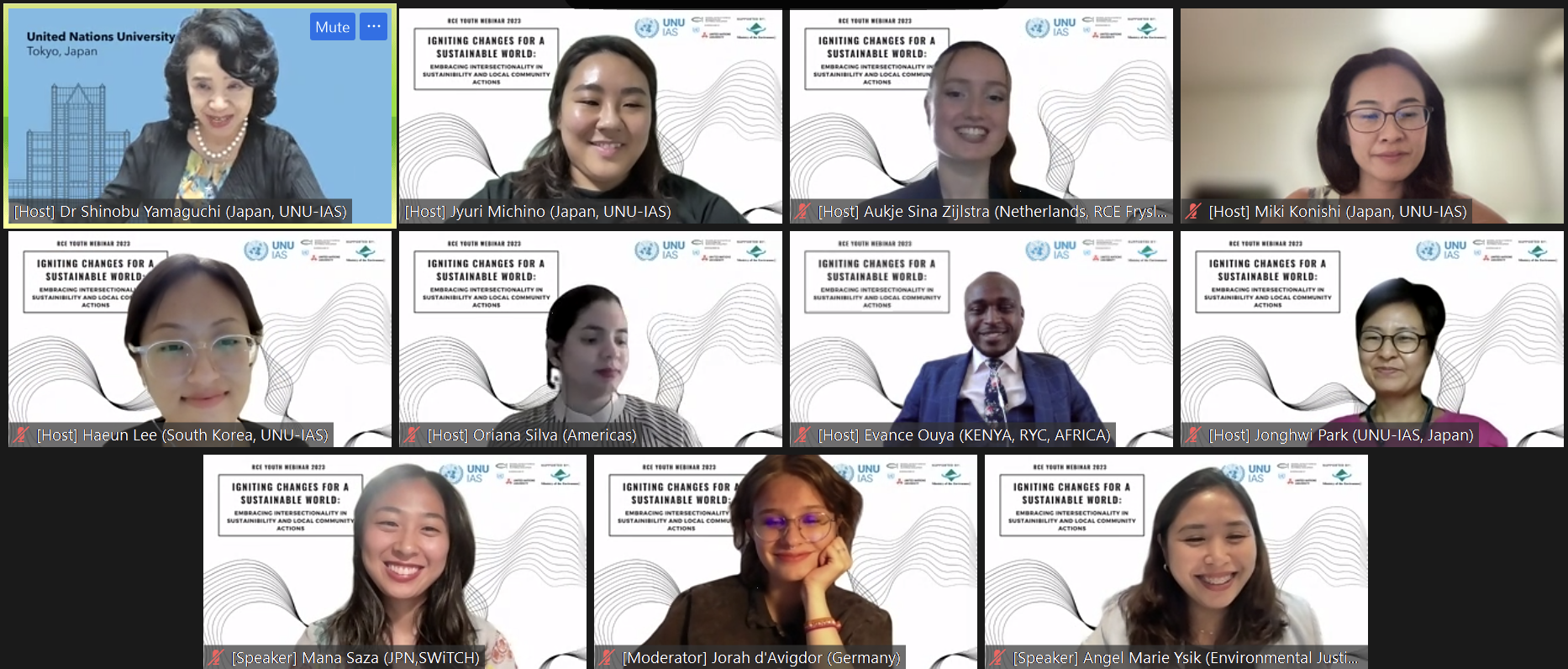 On 10 August 2023, UNU-IAS co-hosted a webinar on the theme Igniting Changes for a Sustainable World: Embracing Intersectionality in Sustainability and Local Community Actions. Marking International Youth Day, the event brought together 116 participants from around the world to discuss youth-led initiatives and local community actions to achieve sustainability. It was organised by Regional Youth Coordinators (RYCs) of the Regional Centres of Expertise on Education for Sustainable Development (RCEs) and co-hosted by the Global RCE Service Centre.
In opening remarks, Shinobu Yume Yamaguchi (Director, UNU-IAS) stressed the importance of creating an environment in which youth can unleash their creativity and full potential to advance a fundamental social transformation towards a sustainable future. She encouraged RCE youth to use platforms such as the webinar to collaborate and share their initiatives and plans in their respective regions and beyond.
Keisuke Midori (Section Chief, Ministry's Secretariat, Office of Environmental Education, Ministry of the Environment of Japan) highlighted education for sustainable development (ESD) as essential for addressing the numerous environmental challenges facing the world, and noted that youth could harness wisdom across regions through partnerships, and channel it into action to achieve the SDGs.
A keynote by Mana Saza (Director, SWiTCH) examined the role of youth in climate action. She discussed her project, Sustainable Ambassador Program, which focuses on nurturing sustainable practices among youth by involving them in policymaking. Reflecting on her journey, Ms Saza spoke about the importance of having a bold vision, setting ambitious goals, building a supportive network, maintaining positivity and resilience, and empowering others through education.
Angel Marie Ysik (Philippines Campaigner, Environmental Justice Foundation) delivered a keynote speech on how intersectionality could enable a more creative and holistic approach to identifying appropriate solutions for global problems.
Addressing questions from participants, Ms Saza explained that youth could make an impact and have their voices heard through participating in dialogues at international conferences such as UN Climate Change Conferences (UNFCCC COPs). Ms Ysik encouraged participants to understand local perspectives and work closely with communities.
Breakout sessions highlighted examples of youth advocating for responsible natural resource management, raising awareness of environmental conservation, leveraging partnerships to develop and adopt eco-friendly technologies, and mentoring programmes to offer guidance and hands-on experiences to aspiring sustainability advocates.