2022•05•20 Barcelona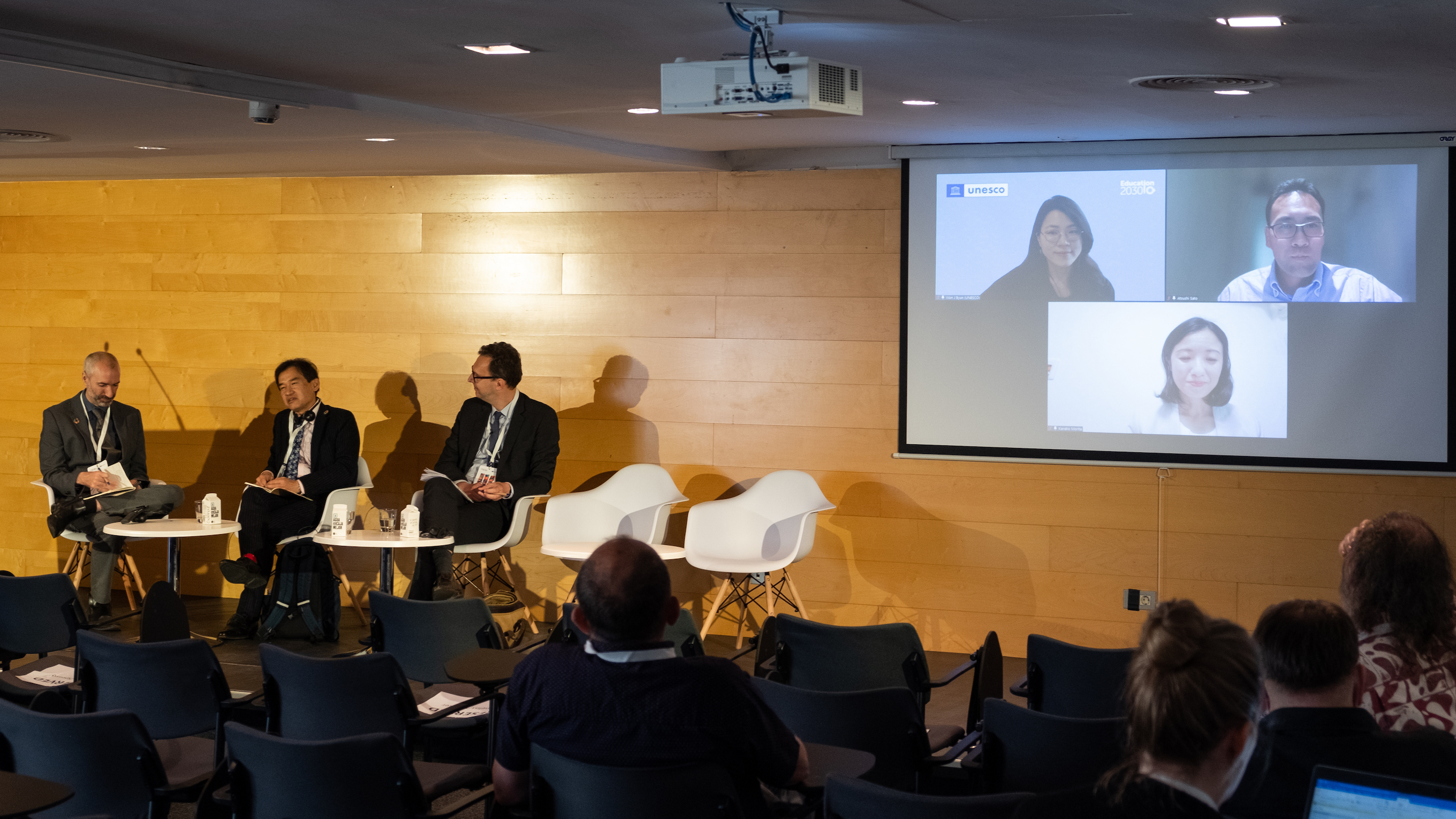 On 20 May 2022, a UNU-IAS roundtable discussion at the UNESCO World Higher Education Conference 2022 (WHEC 2022) explored how to empower young leaders and build capacity for climate action. Held in Barcelona and online, it discussed the knowledge and skills needed to implement the Paris Agreement on climate change — the international commitment to limit global warming to well below 2°C and strive for 1.5°C. The session presented progress in developing a new UNU-IAS postgraduate degree specialisation on the Paris Agreement, gathering feedback and inputs.
Opening the session, Shinobu Yume Yamaguchi (Director, UNU-IAS) observed the need for systematic, long-term training to effectively contribute to sustainable transformation towards carbon neutrality. She noted that the UNU-IAS degree programme specialisation would foster vital skills to bridge science and policy for transformative climate action.
Akio Takemoto (Programme Head, UNU-IAS) outlined the capacities that were needed to implement the Paris Agreement, including institutional capacity for measurement, reporting, and validating (MRV), data collection, and coordination. He presented an overview of the UNU-IAS degree programme specialisation, explaining its objectives, beneficiaries, and structure.
A presentation by Won Jung Byun (Programme Specialist, Section of Education for Sustainable Development, UNESCO) shared relevant UNESCO activities and teaching materials on Education for Sustainable Development (ESD) and climate education. Kanako Morita (Senior Researcher, Center for Biodiversity and Climate Change, Forestry and Forest Products Research Institute) identified research priorities to improve climate governance. Atsushi Sato (Chief Analyst, Mitsubishi UFJ Research and Consulting) explained capacity needs for transparency and MRV, presenting lessons learned from experience in developed and developing countries. Laurent Cortese (Deputy Head, Education-Vocational Training-Employment and Higher Education Division, French Agency for Development) highlighted the need for a holistic approach to integrate climate issues across all levels of education and ensure a fair climate transition.
A panel discussion moderated by Philip Vaughter (Consultant, UNU-IAS) considered the competencies required for implementing the Paris Agreement. Panelists identified the need for dialogue with the private sector and integrated approaches that reflect local contexts and labour markets, as well as vocational education and lifelong learning. Climate action also requires systems thinking, and a new balance between cognitive, behavioural, social, and emotional learning. It was noted that social science must play a key role in understanding how to build social acceptance of climate measures and transform societal systems.
Considering partnerships for implementing the initiative, panelists encouraged UNU-IAS to engage with a diverse range of organisations, including civil society organisations and local governments to enable students to understand climate change issues on the ground. It was suggested that national development agencies could bring expertise and identify potential students. Partnerships should also bring students opportunities to work with people in different fields and contexts, to develop communications skills and other critical competencies.
Discussion with participants highlighted the need to integrate climate change into other courses and curriculums, in addition to implementing dedicated programmes.