2019•06•21 Tokyo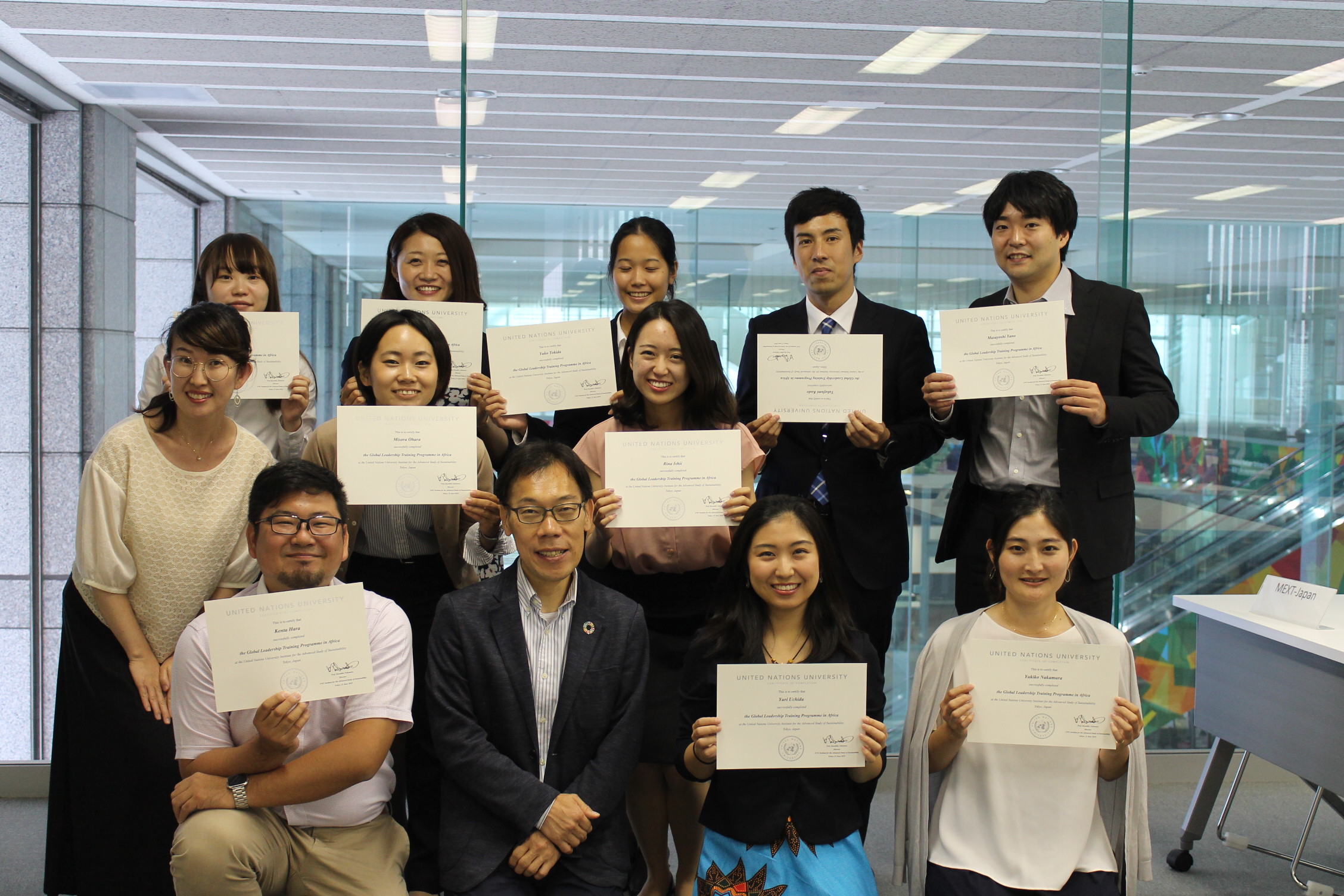 On 21 June 2019, UNU-IAS hosted a reporting session on the Global Leadership Training Programme in Africa (GLTP), providing an opportunity for the students who participated in the previous year to share their fieldwork with students newly selected for the programme. GLTP is a practical training initiative, supported by the Ministry of Education, Culture, Sports, Science and Technology of Japan (MEXT), which provides Japanese postgraduate students with opportunities to implement their fieldwork at partner institutions in Africa.
The workshop was registered as a TICAD7 Partner Project by the Ministry of Foreign Affairs of Japan, recognising its contribution to achieving the objectives of the Seventh Tokyo International Conference on African Development (TICAD7; 28–30 August 2019).
In 2018, a total of 12 master's and PhD students carried out research in Ethiopia, Kenya, Mozambique, Rwanda, Tanzania, Uganda, and Zambia. The session began with a welcome from Takuto Miyamoto of MEXT, who expressed his appreciation for the efforts of participating students and expectation that their work would continue to contribute to sustainable development in Africa. Students then presented their research, on topics as diverse as the effectiveness of school management committees, the diets of primary school students, business and human rights, and rural–urban migration.
In 2019, nine postgraduate students joined the programme. These students will conduct their research in Kenya, Malawi, South Africa, Zambia, and Uganda. The programme is open to students interested in any area of study that can contribute to implementation of the 2030 Agenda for Sustainable Development and the Sustainable Development Goals (SDGs) in Africa.
Field reports from the 2018 students are available below:
Doctoral Students
Ms. Yukiko NAKAMURA (Hokkaido University)
Surveillance and risk analysis of Trypanosoma spp. infection in the wildlife-livestock-human interface
Mr. Kenta HARA (Tokyo University of Agriculture)
Relationship between Agrodiversity, Nutrition and Daily-activity in rural Kenya
Ms. Azusa MATSUI (Kyoto University)
Rural-Urban Migration and Dynamic Change in Migrants' Social Network in the Destination: A Case of Mozambique Island
Ms. Kana MATSUBARA (Kyoto University)
Relation between HRM and Laborers' Skill Formation of Leather-shoe Industry in Addis Ababa, Ethiopia
Ms. Ayako INOKUCHI (Osaka University)
Internalization of Business and Human Rights Norms -Case Study: Conflict Minerals Regulation and African Great Lakes Region-
Master's Students
Ms. Yuko TOKIDA (Tokyo University)
Association between diet of primary school students and their nutritional status in rural and urban Tanzania
Ms. Yuri UCHIDA (Waseda University)
Lesson Study Approach as a teacher training Continuous Professional Development program in Mathematics and Science in two selected secondary schools in Serenje District, Zambia
Ms. Kana SUZUKI (Yokohama City University)
A comparative study of barriers and facilitators of HIV Testing Services Visits among male and female adults in Homa Bay, Kenya
Ms. Misora OHARA (Nagoya University)
How vocational training affects the perceptions of conflict victims – Case study of Northern Uganda –
Ms. Rina ISHII (Kobe University)
The Role of School Management Committee and the Factors Influencing its Working in Ugandan Primary School
Mr. Masayoshi YANO (Hiroshima University)
A study of a primary teacher training program under a competency-based curriculum in Rwanda –Focusing on primary science teacher training-
Mr. Takafumi KUDO (Tokyo University of Agriculture and Technology)