2019•10•09 Bali
On 26 September 2019, a UNU-IAS workshop presented research on water resources in Bali, Indonesia, highlighting the sensitivity of the local economy to water availability. Held in Bali, the workshop shared preliminary research findings of the UNU-IAS project Water for Sustainable Development (WSD), engaging local stakeholders. The workshop was organised by the WSD project, in cooperation with two institutes of Udayana University (Denpasar, Bali): the Center for Remote Sensing and Ocean Sciences (CReSOS) and the Environmental Research Centre (PPLH).
According to WSD analysis, available water resources in Bali are already fully exploited, while demand for water continues to rise due to a growing economy and population. Industrial growth is also exacerbating water pollution, making quality water less available to society and industry, and increasing competition over existing water resources. Assuming that (i) in 2035, the amount of water available for use by key industrial sectors will be reduced by 20% from 2015 levels, and (ii) no alternative measures or technologies are introduced to compensate for the gap in water demand, the hardest-hit businesses would be hotels and restaurants. Their output could drop by 21.6% from 6.2 trillion Indonesian Rupiah (IDR) in 2015 to 4.9 trillion in 2035. The WSD study also shows that, if the same assumption is applied, water shortages will reduce rice production from IDR 5 billion in 2015 to 4 billion by 2035, and will indirectly reduce the output of other industrial sectors by 17 %, from IDR 1.097 trillion in 2015 to IDR 909 billion in 2035.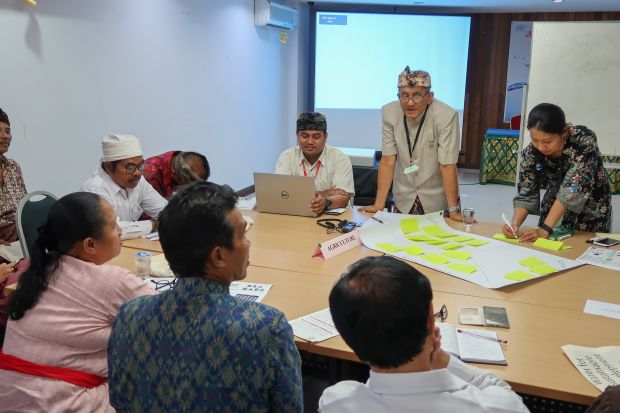 The workshop featured speakers including Mr Hirohisa Chiba (General Consul of Japan in Bali), Prof. Dr. Ir. I Gede Rai Maya Temaja (Vice-Rector, Udayana University), and Dr Akimasa Sumi (Professor Emeritus, University of Tokyo), as well as some 100 local stakeholders engaged in water management or activities that rely heavily on water. In the afternoon, selected participants from local government, agricultural communities, tourism and construction industries, and NGOs discussed the future of water in Bali, and presented their views on WSD research findings, threats posed by water scarcity, and possible solutions.
The outcomes of the workshop will be integrated in the Bali case study results of WSD, for publication in late 2019 to early 2020.
For more information on the research and team members of WSD, please visit the project pages.