2015•10•28 Tokyo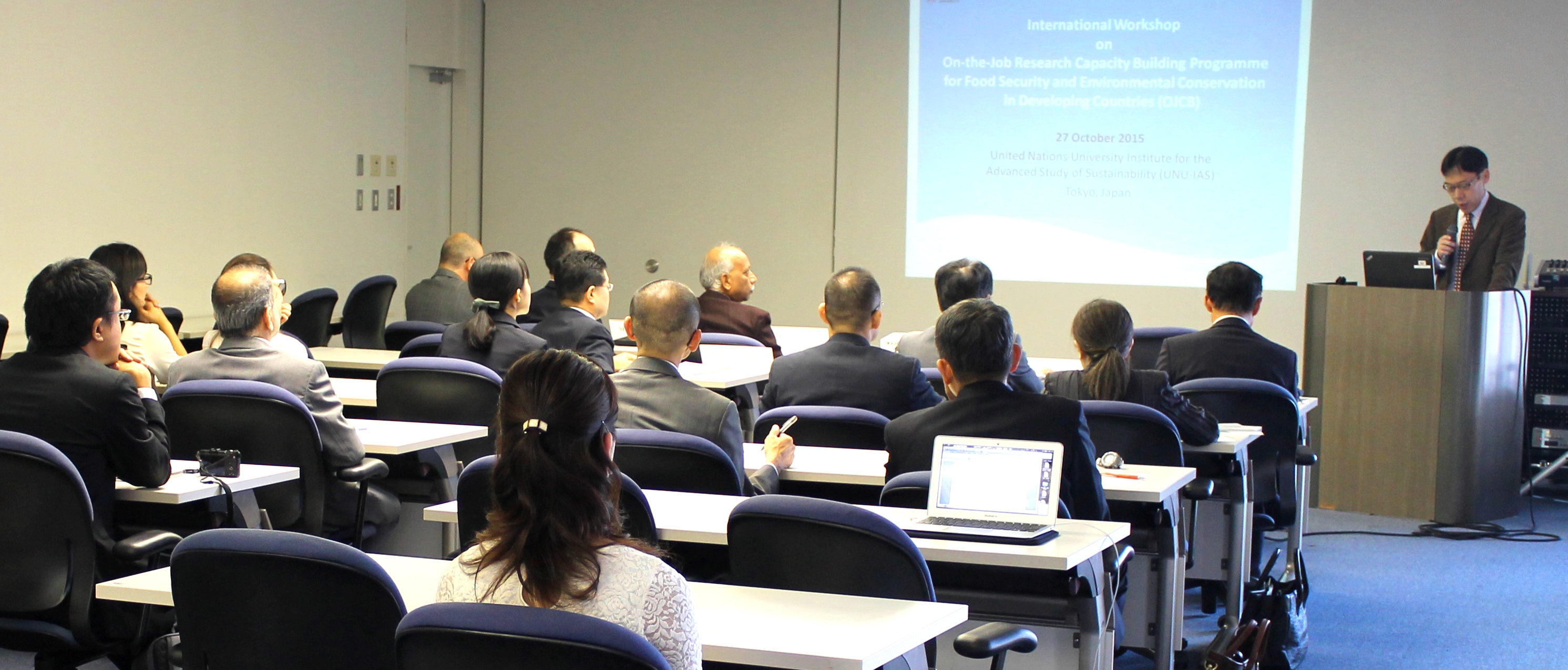 On 27 October, UNU-IAS, the Ministry of Agriculture, Forestry and Fisheries (MAFF) of Japan and host scientists of the On-the-Job Research Capacity Building Programme for Food Security and Environmental Conservation in Developing Countries (OJCB) have gathered in Tokyo to take stock of the programme's achievements.
The OJCB programme was launched in 2011 with the objective to increase agricultural productivity for food security and to resolve environmental conservation problems in developing countries. Since its launch, 67 project proposals covering agriculture, livestock management, forestry and fishery, have been funded and a total of 167 trainees from developing countries in Africa, Asia and Latin America have been trained under the programme.
A coordinator of one of the OJCB projects, Manabu Ishitani (Senior Scientist, CIAT) introduced the case of clean cassava seed systems that his team implements in Southeast Asia. It is a scientific effort to develop disease-free seeds of an important staple that is under increasing attack from pests and diseases such as the Cassava Mosaic Disease. The project takes place in countries with a serious lack of breeders such as Lao People's Democratic Republic and Cambodia and OJCB plays an important role in bringing up the next generation of agricultural research and development leaders.
To maximize positive outcomes of the OJCB programme, selection of candidates takes into account both their experience and skills, as well as the resources and infrastructure of their home institutions to carry on research activities beyond the duration of the project. Speaking about ways to foster greater continuity and to generate greater value from limited funding, K.G. Saxena (Professor, Jawaharlal Nehru University) mentioned the importance of greater visibility for project outcomes, comprehensive follow-up of trainees' work beyond the duration of the project as well as creation of alumni platforms to facilitate networking.
During the question and answer session, the participants brainstormed further collaboration opportunities with other similar programmes.