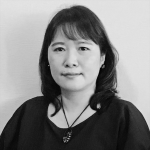 INSTITUTE:

UNU-IAS

E-MAIL:

hata@unu.edu

PHONE:

+81 3 5467 1212

NATIONALITY:

Japanese
Research Interests
institutional quality and the role of incentives
International higher education
Education
Postgraduate Diploma in Social Anthropology, University of Kent, UK
Bachelor of Arts in English Literature, Seikei University, Japan
Biographical Statement
Eri Hata joined UNU-IAS as Programme and Administrative Head for the Postgraduate Degree and Training Programme (PDT) in April 2021. She oversees the administration of the degree and training programmes provided at the institution.
Prior to joining UNU-IAS, she has worked in the public sector in the field of education and culture for over twenty-five years at various positions of the Japanese government and higher education institutions. In her previous position at the Ministry of Education, Culture, Sports, Science and Technology (MEXT), she represented Japan at many Council meetings and conferences of UNESCO's Science Programme as Assistant Secretary-General for Japanese National Commission for UNESCO as well as Assistant Director-General for International Affairs in MEXT.
From 2011 to 2015, she served as Director of International Affairs at National Institution for Academic Degrees and University Evaluation (NIAD-UE), a Japanese quality assurance agency for higher education, and in the following two years she served as Visiting Associate Professor with a research interest in recognition of degree. Her long and extensive career includes professional experiences in universities and research funding agency; Kyushu University, Shimane University, the University of Sheffield in UK, and the Japan Society for the Promotion of Science (JSPS).
Ms. Hata earned a BA in English Literature and a Postgraduate Diploma in Social Anthropology from the University of Kent, UK.