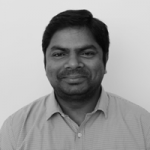 INSTITUTE:

UNU-IAS

OFFICE:

Jingumae 5-53-70, Shibuya-ku, Tokyo 150-8925, Japan

E-MAIL:

Geetha.Mohan@unu.edu

PHONE:

+81-3-5467-1212

NATIONALITY:

India
Research Interests
Climate change adaptation
Development Economics
Economics of Climate Change
Water economics and management
Education
PhD in Economics, School of Economics, Andhra University, India
MPhil in Economics, School of Economics, Andhra University, India
MSc in Quantitative Economics, School of Economics, Andhra University, India
Biographical Statement
Geetha Mohan joined UNU-IAS as a Research Fellow in April 2018. He holds his doctoral degree in Economics from Andhra University in India. His research and teaching interests includes climate change adaptation, impact assessment, environmental statistics, sustainability science, and economics of climate change and water management. In addition, he is well experienced in working with a wide range of multidisciplinary research projects focused on the nexus of energy, environment, and ecosystems; agriculture, nutrition, and health, particularly in developing nations in Asia and Africa. He has been Principal Investigator and Co-Principal Investigator on three projects with the National Institute for Environmental Studies (NIES) and Tokyo Agricultural University. Currently, he is also affiliated with the Integrated Research System for Sustainability Science at the University of Tokyo as a visiting associate professor.
Before joining UNU-IAS, Dr. Mohan worked as an Assistant Professor for more than four years and one year as a project researcher at the Integrated Research System for Sustainability Science (IR3S), the University of Tokyo, Japan. He was a JSPS Postdoctoral Fellow at UNU-ISP (one of the institutes that merged to form the current UNU-IAS) from 2009 to 2011.  He has also worked in various international and national institutes/organizations such as Visiting Scientist at the International Crops Research Institute for the Semi-Arid Tropics (ICRISAT), India; Research Analyst at the National Council of Applied Economic Research (NCEAR), India; Research Investigator at the Agro-Economic Research Centre (AERC), Andhra University, Ministry of Agriculture, India; and Field Supervisor at the Centre for Economic and Social Studies (CESS), India.
In addition to his work on the UNU-IAS Water for Sustainable Development project,  Dr. Mohan is currently engaged in research projects related to aspects of water, examining:
The effects of climate change and agricultural management practices on rainfed rice crop yield in rural Vietnam and India (Principal Investigator)
Capacity development training workshop on crop simulation modelling and effects of climate risks on agricultural production systems in Southeast Asia (Principal Investigator)
The nexus of agriculture, nutrition, and health towards developing a sustainable society in Rwanda (Co- Principal Investigator)
Climate change and its impact on health in Kenya (Co-Principal Investigator). 
Dr. Mohan has various research publications including peer-reviewed articles, book chapters, and reports to his credit.