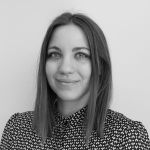 INSTITUTE:

UNU-IAS

OFFICE:

Jingumae 5-53-70, Shibuya-ku, Tokyo 150-8925, Japan

E-MAIL:

roder@unu.edu

PHONE:

03-5461-1212

NATIONALITY:

Italy
Research Interests
Climate Change Coping & Adaptation
Disaster risk reduction
Floods
Natural Hazard Research
Social Vulnerability
Education
Ph.D. in Land, Environment, Resources and Health, University of Padova, Italy
M.Sc. in Forest and Environmental Sciences, University of Padova, Italy
B.Sc. in Forest and Environmental Technologies, University of Padova, Italy
Biographical Statement
Giulia Roder joined UNU-IAS as a Research Associate in April 2019. Her work is related to the Water for Sustainable Development project, which aims to stimulate sustainable development in the Asia Pacific.
She holds a Ph.D. from the University of Padova (Italy), with her doctoral work focused on flood and human interactions through the analysis of flood dynamics in anthropogenic landscapes, risk perception and preparedness studies in different communities worldwide. Her multidisciplinary research also focused on social vulnerability related to floods by combining several methodological techniques. Through her research, she has collaborated with Civil Protection Departments in Italy.
She has also worked in various international and national institutes/organizations such as Visiting Scientist at the Lincoln Centre for Water and Planetary Health at the University of Lincoln (UK) and for the Department of Plant Production and Silviculture at University of Valladolid (Spain). The results of the work can be found in a number of international scientific publications.
Her research interests in risk, vulnerabilities and sustainable development come from her master thesis for which she lived with an indigenous community in the Central Mountain Range of Taiwan. Following that experience, she joined the Institute for University Cooperation (ICU) in Beirut (Lebanon) where she dealt with water scarcity, renewable energies, and capacity building for sustainable development.
Before joining UNU-IAS, she worked as a junior researcher for the University of Padova on the LIFE Project BEWARE (BEtter Water-management for Advancing Resilient-communities in Europe), which has the goal of achieving a global strategy for climate adaptation to flooding risk, increasing water infiltration, and storage in urban and rural areas by involving local communities.
In addition to her work on the UNU-IAS Water for Sustainable Development project, Dr. Roder is currently engaged in a research project for the conservation of the Rice Terraces World Heritage sites in Asia.
She joined the Natural hazards Early career scientists Team (NhET) in April 2017 for which she writes as a blogger increasing natural hazards awareness to the broad public.