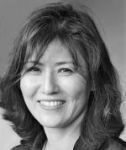 Mieko Yonaha joined UNU-IAS in February 2022 as an Administrative Assistant specialising in procurement. She provides procurement services for various projects including biodiversity and environmental research, surveys, production services, SDG–University Platform conferences, workshop programmes, and website maintenance for the Innovation and Education (IVE) Programme. She also provides administrative support in liaison with the UNU procurement office in Kuala Lumpur for finance-related issues, contract setup and closeouts.
Mieko has lived and worked in the United States (Ohio and California) for seven years. She worked as a teacher at Japanese Saturday School in both states. During that time, she attended Ohio State University Graduate School's TESOL programme. She holds an MA in Environmental Policy from Waseda University. Her research interests include comparative laws in "Polluter-Pays Principles-PPP" in US-Japan Status of Forces Agreement in Japan (SOFAs), US-Germany/NATO, US-Finland, US-Sweden bilateral environmental policies in military activities.
Before joining UNU-IAS, Mieko worked on military bases in Japan as a Contract Specialist and Information/Editorial Specialist for the United States Department of Defense, and as a Procurement Agent for the United States Embassy in Tokyo. She is excited to utilise her work experience and academic background at UNU-IAS, and contribute to achieving the SDGs.