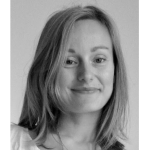 Hanna Takemoto is a Communications Associate at UNU-IAS. In this role, she develops and implements English-language communications strategies to promote UNU-IAS activities and outputs with the goal of maximising impact and visibility.
Originally from Poland, Hanna is a graduate of the University of Maryland where she earned an M.A. in Library and Information Science with a specialization in Diversity and Inclusion. She also holds a B.A. in Film Studies from the University of British Columbia.
Hanna is passionate about connecting people with information in order to create more inclusive and sustainable communities. Prior to joining UNU-IAS, she has held a variety of positions in the fields of education and library services in Canada, Japan, Iran, and the United States. Her professional interests include information literacy, scholarly communication, and serving the information needs of marginalized populations.