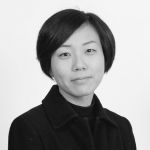 Miwa Higashimuki is a Communications Associate at UNU-IAS. Her role is to promote UNU-IAS and its activities to increase visibility and outreach by developing and implementing effective communication strategies, with a particular focus on Japan.
Miwa earned her M.A. in Conflict Studies and Human Rights from Utrecht University in 2020 focusing her research on the interactive process of dominant discourses and divergent risk perceptions of the population in post-Fukushima, Japan. She also holds a B.A. degree in Contemporary History from Kyoto University.
She has over 10 years of experience in the field of journalism, media content production, and education in Japan, France, Taiwan, and The Netherlands. She has engaged in advocacy statement writing, translation, and SNS account management at the East Asia bureau of Reporters Without Borders, directing TV programmes at Yomiuri Telecasting Corporation in Osaka, Japan and providing related services at NHK Kyoto branch and NHK Cosmomedia Europe Limited. She has also worked as a teacher at foreign educational institutions and charged in the position of Chief of the Secretariat at Japanese Saturday School Amsterdam.