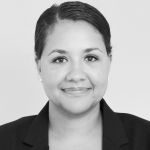 Rachel Nunn is the Senior Communications Associate at UNU-IAS. Her role is to drive engagement and collaboration in terms of outreach, communications, and strategic partnerships for all UNU-IAS research and related activities.
Rachel earned her MSc in Climate Change from the University of the South Pacific in 2017 where she chose to focus her research on hydro-meteorological early warning communication and messaging. She also holds a Post-Graduate Certificate in Climate Change and a BSc in Environmental Science. She previously attained a Leadership Training Certificate for the Asia-Pacific Leadership Program and a TESOL Certificate.
She has over 10 years of experience in the field of science communication, project coordination, and strategic partnership building, including working in similar roles for the UN International Labour Organization (ILO) in Apia, Samoa, the East-West Center in Honolulu, Hawai'i, the University of the South Pacific and NaDraki Weather and Climate Services in Suva, Fiji. She has also engaged in consultancy activities for the Deutsche Gesellschaft für Internationale Zusammenarbeit (GIZ), the Secretariat of the Pacific Regional Environment Programme (SPREP), and for the Government of the Republic of the Fiji Islands.