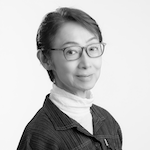 Yumiko Nozaki joined UNU-IAS in August 2020 as a Strategy and Liaison Officer, working on the SDG Universities Platform (SDG-UP).
Prior to joining UNU-IAS, she worked as a programme officer at the Sasakawa Peace Foundation engaging in the launch and operation of various international relations projects. Yumiko began her career as an announcer at TV Asahi, where she reported on political and regional issues on various TV programmes. She also has extensive experience working abroad, including as a lecture coordinator for the Japan Society in New York and as an educational consultant at UNESCO in Bangkok. At UNESCO, she conducted in-depth research of the educational environment and institutions at the Bhutanese refugee camps in East Nepal.
Yumiko holds an MA in Public Administration from International Christian University (Tokyo, Japan), and an MIA from Columbia University (New York, USA), as well as an MS in Health Economics from Chulalongkorn University (Bangkok, Thailand).