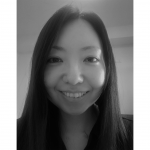 Akane Umetsu is a programme associate for the Water and Resource Management Programme and serves concurrently as a special assistant to the Academic Programme Officer. She assists in the overall management of the EIG-Concert Japan project, which is a collaborative research project with European partners. The project aims to develop a systematic framework for organizational decision-making processes in order to facilitate the uptake of smart reuse of wastewater resources.
Her specialty is environmental science (geochemistry) as well as environmental law. Prior to joining UNU, she served in local government, taking responsibility for amendments to local ordinance in relation to the Waste Disposal Law. She also supported legal research at the United Nations Environmental Programme as an intern, focusing especially on the status of national laws of member countries in terms of the Kigali amendment to the Montreal Protocol.
The main area of her doctoral research was magma generation and its geochemical features at an arc-arc junction, and her master's research covered the detection of environmental changes in the past using instrumental analysis.
Research Interests
Geochemistry & Petrology
Environmental Conventions
Diplomacy