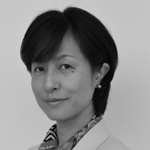 Mikiko is the Liaison Coordinator at the UNU-IAS Operating Unit Ishikawa/Kanazawa (OUIK). She supervises OUIK's programme development activities, including communications, outreach, and networking with local and global partners.
Mikiko has a BA in French Studies from Sophia University (Tokyo) and an MA in International Development from the National Graduate Institute of Policy Studies (Tokyo). Her academic interests include community based management system of natural resources, multi-stakeholder partnership building and science communication.
Prior to joining UNU-IAS, Mikiko worked as a Project Coordinator for JICA and the JST-funded IMPAC-T Project (Integrated Study on Hydro-Meteorological Prediction and Adaptation to Climate Change in Thailand) in Bangkok. She has also worked as a Programme Associate at UNU, and as a Project Coordinator and Advisor for projects in Mongolia.
In addition to Japanese and English, she is also fluent in French and Mongolian.